How to Care for Stainless Steel Cookware
Stainless steel cookware is highly durable, extremely beneficial cookware with a slightly misleading name. Stainless steel can stain, though it isn't as likely that it will do so. What makes stainless steel so special is that it has many benefits. It doesn't affect the flavor of food, it's hygienic in that it isn't porous (no food can be absorbed into it), it's 100 percent recyclable, easy to maintain, and it boasts a life expectancy of more than 100 years. All that, and it looks good, too.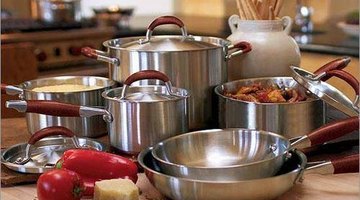 Avoid using abrasives on stainless steel, as it may scratch. Use plastic and rubber utensils to avoid damage.

Wash stainless steel cookware after each use with warm soapy water. It's even dishwasher safe.

Avoid storing food in the cookware. This may actually cause it to stain.

Boil a mixture of half-water and half-vinegar in cookware that has developed white calcium deposits. Add a teaspoon of salt once it has reached a boil to prevent white spots.

Pour warm soapy water into a pot or pan that has burned food stuck to the bottom of it and allow it to soak for an hour or more. Place the pot or pan with the soapy water on the stove and bring it to a boil for 10 minutes. Remove the pot or pan from the stove and allow it to cool before scrubbing away the burned food with a sponge. It shouldn't take much scrubbing at all at this point.

Rub isopropyl alcohol on a price sticker that won't come off when you scrape it away with a fingernail and a soft clean cloth.
Tips
To make stainless steel shiny again, rub baking soda on it with a dampened synthetic scouring pad.
Warnings
Avoid the use of ammonia and chlorine bleach on stainless steel cookware.
Writer Bio
Melynda Sorrels spent 10 years in the military working in different capacities of the medical field, including dental assisting, health services administration, decontamination and urgent medical care. Awarded the National Guardsman's Medal for Lifesaving efforts in 2002, Sorrels was also a nominee for a Red Cross Award and a certified EMT-B for four years.
Photo Credits
More Articles