How to Use Brad Nailers with Crown Molding
Brad nailers expedite what can otherwise be a tedious process. If you've ever missed a finish nail head and accidentally left a hammer head's mark in your trim, you understand that using an electric or pneumatic nail gun can save you a lot of frustration. A brad nailer can turn an hour's worth of work into a matter of minutes.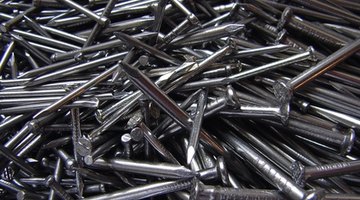 Run the stud finder along the wall. Mark the studs lightly with a pencil.

Hold the crown molding against the wall. Place the nailer's guard tip against the molding where you have marked a stud. Apply firm pressure so that the nailer's tip is depressed. Pull the nailer's trigger and release quickly to avoid shooting multiple brads.

Nail your molding on each stud.

Set brads with a nail punch for any brad the nailer failed to set on its own. Set each brad at least 1/16 inch beneath the molding's surface.

Fill all brad holes with wood putty and a putty knife. Wait for the putty to dry and then touch up stain or paint the putty with a cotton swab
References
Tips
Before starting work, make sure your brad nailer is properly oiled. Check its rubber tip guard so the gun does not scratch or dent the molding. Make sure the gun has a full magazine to avoid running out of brads in an awkward position. Check the pressure on your air compressor so it is appropriately rated to your tool.
Check your hose so it is free of entanglements or obstructions if you are using a pneumatic nailer.
Check your nailer's instruction manual for the proper pressure setting for a pneumatic nailer. Most guns should be set around 90 lbs. per square inch for finish work.
Warnings
Wear safety glasses.
Nail guns are still guns. They jam occasionally. Always disconnect an air hose or unplug the gun's cord before trying to remove a brad stuck awkwardly in the chamber.
Never point the gun at yourself or anyone else.
Writer Bio
Located 15 miles east of Boston, Mass., Joseph V. Franciosa, Jr. has been writing professionally since obtaining his Bachelor of Arts in English, with a focus in creative writing, from Suffolk University in 2008. His latest project has been ghostwriting a historical fiction novel regarding the adolescent life of Adolf Hitler.
Photo Credits
More Articles