How to Clean a Granite Fireplace
If you have a granite-finished fireplace, you already know how beautiful and durable your fireplace is. However, after years of use, soot can build up on your fireplace mantel and dull its shine. Cleaning a granite fireplace may seem like a daunting task, but it requires only common household cleaning items.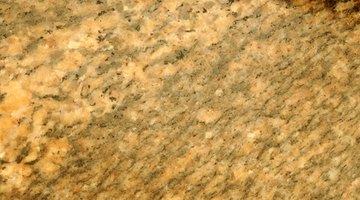 Pour a gallon of warm water into a bowl and add 2 to 3 tbsp. of regular dish soap to the water. The water should take on a soapy texture and there will be some foam on the top.

Dampen a sponge with the soapy water and scrub the granite fireplace vigorously. Make sure to scrub in between grout lines if your fireplace has granite tile.

Dump out the soapy water and replace it with clean water. Use your sponge to rinse off the soapy water. Make sure to do a thorough job, as any leftover soap will leave a thin, opaque film on the granite's surface.

Use a towel to dry off the granite. It should be restored to its former brilliance.
References
Tips
To keep your granite looking as clean as possible, make sure to polish it at least twice a year and seal it once a year.
Photo Credits
More Articles