How to Convection Dehydrate on a Viking Range
Viking ranges have a convection oven component which speeds cooking by using a fan to circulate hot air throughout the oven chamber. Some models have a "Convection Dehydrate" setting which employs the convection fan to dry fruits and vegetables faster, but you can manually switch on the convection fan for any Viking Range model. Harness this moving heated air to dehydrate foods such as fruits and vegetables for making your own dried snacks and fruit leathers. The moving air, draws moisture from the food, preventing spoilage, and increasing its shelf life. Drying times will depend on the type of food you are dehydrating as larger cuts of fruit take longer than small slices of vegetables.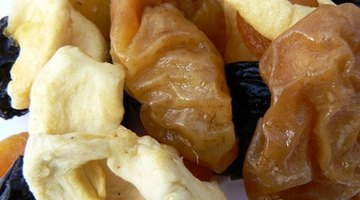 Place a cooling rack into a baking pan which allows for air flow from the Viking convection oven to circulate on all sides of the food, speeding drying. The baking pan catches any food which might fall through the slots on the drying rack.

Arrange the food in a single layer on the cooling rack.

Set the temperature control to 200 degrees Fahrenheit. Press the button for "Convection Bake" or the switch to turn on the convection oven fan.

Check the food after the time prescribed in your drying recipe. Fruits become fully dry when leathery and vegetables are dry when they become crisp and brittle.