How to Remove the Stereo From a Mazda5
The Mazda 5 comes with an in-dash AM/FM stereo with CD player as a basic factory installed accessory. You can add optional features after purchase, including a multi-disc CD changer, mp3 player or even an in-dash DVD player. You'll have to remove the existing stereo before you can install the new one. Fortunately, Mazda makes removal simple, requiring only a Phillips screwdriver.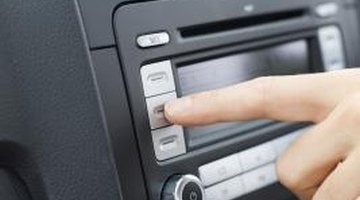 Open the hood and remove the negative battery cable from the car battery. Use an adjustable wrench to loosen the cable clamp, if necessary.

Remove the manual shift knob from the central panel by unscrewing the knob and then lifting it away. Pry the gear shift trim from the central console and then remove the Phillips screw.

Remove the side panel to the console holding the radio at its base in the foot-well on the driver's side. Grasp the panels at the front corners and pry them from the console. Remove the single Phillips screw. Repeat the process with the panel on the passenger's side.

Pull the center console backwards slightly from the front console of the car, revealing the bottom of the radio/climate control assembly. Remove the two Phillips screws securing the radio to the console and then pull the radio from its cavity in the front console. Unplug the speaker wires, the antenna lead, the power cable and the amplifier cable from the rear of the radio as you pull it away to remove it completely.
References
Resources
Writer Bio
Larry Simmons is a freelance writer and expert in the fusion of computer technology and business. He has a B.S. in economics, an M.S. in information systems, an M.S. in communications technology, as well as significant work towards an M.B.A. in finance. He's published several hundred articles with Demand Studios.
Photo Credits
Jupiterimages/Polka Dot/Getty Images
More Articles