Instructions for the Cuisinart Popcorn Popper
You can enjoy popcorn without greasy microwave bags. The Cuisinart EasyPop Popcorn Maker is an appliance that uses natural oil, popcorn kernels or butter for making your favorite movie snack. Popping corn at home gives you options of choosing how much or little popcorn to make. The top of the Easy Pop converts into a serving bowl for the popcorn, saving you from dirtying another dish. Look for this appliance in housewares stores and on the Internet.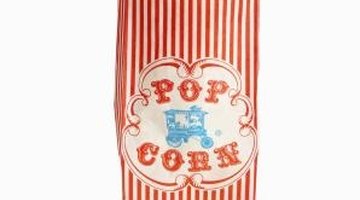 Hold the plate of the bottom of the EasyPop Popcorn Maker in two hands with each hand holding the tabs on the sides of the plate closed.

Press the plate onto the base of the Cuisinart EasyPop and twist until it sits firmly in place. Release the tabs on the sides to lock the popping plate onto the base.

Pour the vegetable oil over the popping plate.

Add the popcorn kernels on top of the plate.

Snap the bowl upside down onto the base to serve as the cover.

Plug in the appliance and flip the switch to "On."

Wait for the popcorn kernels to pop, and manually switch off the machine when there are several seconds between popping sounds.

Unplug the Cuisinart EasyPop.

Place the cap over the hole in the top of the cover.

Pull the two tabs up on the plate while holding the plate handles against the handles on the cover.

Lift the cover and plate from the base and turn upside down.

Remove the plate from the cover and reset it onto the base of the popper, and serve. Drizzle the popcorn with melted butter and sprinkle with popcorn seasonings as desired.
References
Tips
Heat the butter and seasoning-topped popcorn in the oven for 15 minutes at 300 degrees Fahrenheit to make it crisper.
Try using chili powder, grated cheese, taco seasoning, salt and pepper, Italian seasonings, cinnamon or sugar as popcorn seasonings.
Warnings
Do not use olive oil for the vegetable oil, it can smoke.
Photo Credits
Lew Robertson/Stockbyte/Getty Images
More Articles