How to Take Care When Washing Your Juicy Couture Tracksuit
Juicy Couture tracksuits are high quality and expensive, which makes it important to properly care for the tracksuit. Often these tracksuits are made of velour, terry cloth or a similar material that can deteriorate in quality when not cared for properly. By washing and drying the tracksuit with a mild cleaning routine, you can get all dirt and build-up off of the tracksuit while keeping it looking brand new for an extended period of time.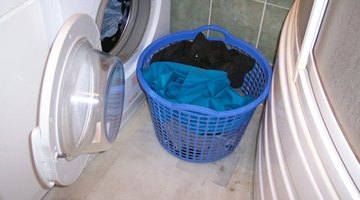 Place your tracksuit into the washing machine, and use a cold-water cycle to prevent fading. Also use a delicate-wash cycle.

Add in your normal portion of delicate laundry detergent, using the type of detergent designed for use with lingerie and similar garments. Allow the washing machine to complete its cycle.

Remove the tracksuit, and hang it to dry, or place it in the dryer on a low-heat or tumble-dry setting. These methods use little to no heat, which extends the overall life of your tracksuit.
Writer Bio
Mel Frank is a professional freelance writer with over 15 years of writing experience. She has completed a wide variety of writing assignments for a number of publications that include CNN and various websites. Frank received a Bachelor of Fine Arts from a prestigious university in Pennsylvania.
Photo Credits
More Articles