How to Troubleshoot a Kenmore Refrigerator Water Dispenser Switch
Many Kenmore refrigerators have a water and ice dispenser located on the front of the door panel. The mechanism is controlled by a switch which, when pressed, delivers a jet of cold water into the glass held beneath the nozzle. The switch is prevented from working when the child lock is active or the mechanism is dirty. Troubleshooting the water dispenser switch will resolve and fix the most common problems.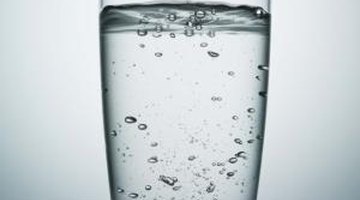 Turn off the parental lock. Hold down the "Door Alarm" button for three seconds until the small light above "Control Lock" goes out. The lock-out feature stops kids and pets from operating the dispenser and makes cleaning the nozzle and switch much dryer. Holding the "Door Alarm" button a second time reactivates the lock.

Push the refrigerator door closed. The dispenser doesn't work while the door is open. The dispenser might not work if bottles and jars in the door shelf are striking something else in the refrigerator. Check that the door closes properly and the gaskets make contact with the door frame.

Activate the parental lock (as in Step 1.) Remove any drink residue on the nozzle and switch with firm scrubbing action using a warm, soapy cloth. Sugary drinks are easily splashed and spilled onto the switch, restricting its movement as the liquid dries. The arm should easily move back and forward.