How to Make Your Bedroom Emo
Emo, short for "emotional," originally referred to the angst-filled lyrics of '80s hardcore punk music. An entire genre of newer music is now categorized as Emo, as are teen fans of this genre. The Emo subculture has its own distinct style; it's not punk or Goth, but shares some elements of both. Take some cues from Emo fashion if you want to make your bedroom Emo in style.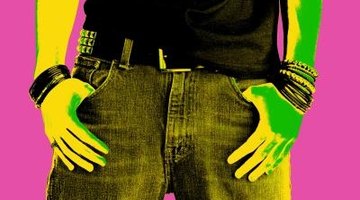 Paint one wall black. It might seem like the perfect idea to paint everything black in an Emo bedroom, but you'll end up with a much cooler effect if you stick with an accent wall and paint the rest of the walls in a bright color. Hot pink, purple, red or just about any neon hue is a good choice. You might opt for blackboard paint instead of traditional black paint and use neon chalk to decorate your walls with poetry, favorite song lyrics or doodles.

Incorporate one or more key motifs into your Emo decor. Skulls are an Emo staple, either creepy or cutesy. Black and bright colored stripes or checkered patterns both have a punk feel, and might be a good option for bedding. Broken hearts express your romantic and sensitive nature, and stars or crosses are both good unisex Emo motifs.

Hunt for vintage furnishings and accents for your room. Emo style is all about individuality, and retro designs give your room a more authentic feel. A funky '70s lamp or night table from the thrift store are inexpensive options and might even be spray-painted or covered with decoupage for a custom look.

Hang plenty of art on the walls. Frames aren't necessary, but you'll get the look you're after with black and white photography postcards and band posters. Create a collage of photos and self-portraits of your artistic friends for an interesting, ever-evolving, expressive form of wall decor.
References
Resources
Tips
Mount a row of wall hooks and hang your favorite belts, jewelry and hoodies. Not only will you be more organized when you get dressed in the morning, you'll also create a stylish display with your Emo accessories.
If you're more of a "Happy Emo" or "Scene" kid, bring some Hello Kitty accents into the mix. If not, you might be happier with some Japanese anime elements.
Writer Bio
Melissa Lewis has worked as a freelance writer since 2004, gaining much of her experience by working in the marketing/PR field. She writes for various websites, specializing in the areas of marketing, home improvement, cooking and pets. Lewis studied English at the University of Wisconsin-Madison.
Photo Credits
Chad Baker/Ryan McVay/Photodisc/Getty Images
More Articles