Order a Sample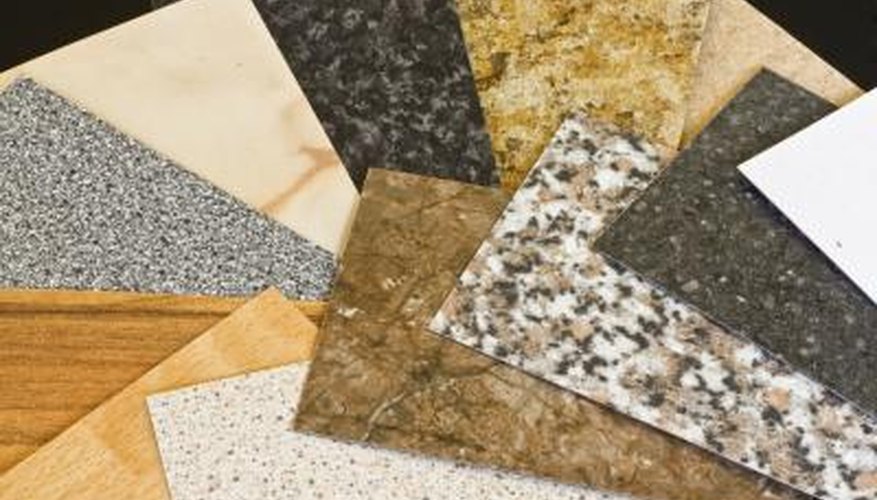 Acquiring a few samples of Formica helps you choose a countertop in the right color, pattern and finish to enhance your existing furnishings. Choose from a variety of available resources -- mail order, in person, computer generated -- to compare Formica laminate samples from the comfort of your own home.
You can order actual Formica laminate samples directly from the manufacturer, The Diller Corporation. The Formica.com website provides images of a variety of laminates in assorted colors, patterns and finishes. Choose three or four of your favorite samples, and the company will mail them to your home at no charge. The samples come in two different sizes -- a small 2-by-3-inch piece or a larger 5-by-7-inch. You can also select a matte, etching or honed finished for your samples.
Download a Swatch
When you want to quickly get a general idea of how a Formica laminate countertop will look in your home, you can view the samples on your computer screen at the company's official website, Formica.com. Opt to download and print your favorite computer-generated swatches to compare them side-by-side in your kitchen or bathroom. Because computer screens, printers and ink tones are all different, remember that printed swatches are only a depiction of the actual laminate and may vary in color from the final product.
Visit a Store
Because many home improvement stores carry the iconic Formica laminate brand, you can visit a local establishment to view a wide variety of countertop samples. Take a paint chip, flooring sample and cabinet drawer from the space where you are installing new countertops to help you select coordinating laminate samples. Limit yourself to three or four samples to simplify the selection process. Take your Formica samples home with you and place them on the existing countertop to make your final selection.
Hire a Designer
If you need professional help in choosing a complementary countertop for your home, hire an interior designer or decorator to assist you. A professional often develops good business relationships with specific stores, so she will likely take you to her preferred location. You can view and discuss the various Formica laminate samples together, and she will help you select the best Formica for your specific decorating style and color scheme. Sometimes a store also provides large sample pieces for trade professionals to check out that aren't typically available to the general public.