How to Decorate With Celadon Green
The color green can produce a variety of effects and create a certain feel in the rooms in which it is applied. Depending on the shade of green and the colors it is combined with, green can suggest freshness, calm, verve or stability. Celadon green is a subdued green with gray undertones that elicits the color of the pottery of the same name. In interiors, celadon green can work with other materials to give a sense of hominess and repose.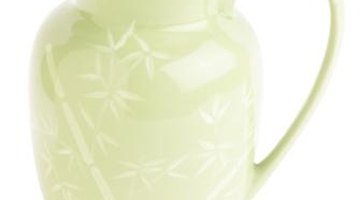 Place celadon green in a Neoclassical design scheme. Replicate the style of the mid 1700s with the revival of interest in Ancient Greek and Roman architecture by using pale colors such as pale blue, cream and celadon green, accented by black for a Greek feel or red and gold for a Roman look. Accompany with furniture that reflects this style, such as pieces with fluted legs and distinct geometrical elements like arches and rectangles. Adorn with accessories such as medallions, urns, columns and wallpaper depicting mythological scenes.

Combine and play off celadon green with other colors. Celadon blends with many colors, even bold ones, but specific color combinations can create different effects. Green with yellow has a cheerful, springy feel, while the green and brown combination pays homage to nature and gives a sense of coziness and tranquility. Light green and sky blue or turquoise lend a sense of purity, enhanced by touches of white for extra freshness. When combined with vivid jewel tones, green suggests tenderness and romance, says Accord Design and Staging.

Combine celadon with other materials for contrast and coziness; for example, mix the color celadon with stainless steel, tile and wood. Color your cabinets a peaceful celadon green for a look of cottage charm, reinforced by cool white ceramic tile backsplashes for a kitchen that harmonizes with a weathered wood island and stainless steel appliances.
References
Writer Bio
Timothea Xi has been writing business and finance articles since 2013. She has worked as an alternative investment adviser in Miami, specializing in managed futures. Xi has also worked as a stockbroker in New York City.
Photo Credits
Hemera Technologies/PhotoObjects.net/Getty Images
More Articles