Instructions for the Nano-Lite Hoover
The Nano-Lite vacuum from Hoover has a washable filter, 12-amp motor and bagless design. The motorized brushes turn off if you have hardwood floors, and the small size and retractable handle make the Nano-Lite easily portable.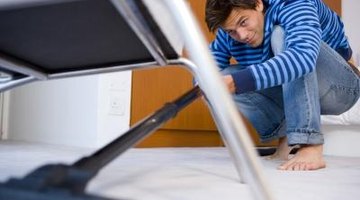 Plug the Nano-Lite Hoover into an electrical outlet. Step on the pedal to turn the brush to the "Carpet" position if you are vacuuming carpet.

Press the button underneath the handle and pull it up until it locks. Step on the hood and pull on the handle to lower it to its operating position.

Push the power button once to turn the vacuum on. Use the handle to propel and steer the Hoover.

Place the handle back in the upright position to attach any cleaning tools. Turn the vacuum off, then twist and remove the hose from the hose tube.

Select the dusting brush or crevice wand. Align the slot in the cleaning tool with the tab on the hose and twist to attach. When finished, twist to detach the tool, then reattach the hose to the hose tube.
References
Tips
Use the carrying handle on the base to transport your vacuum.
Warnings
Do not operate your Nano-Lite Hoover with wet hands, or use it on wet surfaces.
Unplug your vacuum by pulling on the plug and not the cord.
Writer Bio
Sarena Fuller has been writing professionally since 2003. She has written for e-commerce sites, architectural firms, doctors and fashion companies. Her writing experience varies from technical writing to hair and beauty, alternative medicine and eco-friendly living. Fuller holds a Bachelor of Arts in English from the University of Arizona.
Photo Credits
Jupiterimages/Pixland/Getty Images
More Articles