Why Is an Ottoman Called an Ottoman?
Though its shape has transformed many times over the centuries, the purpose of the ottoman has remained the same: a seat intended for leisure and comfort. The ottoman is an upholstered seat, couch or footstool, usually without a back and often overstuffed. Ottomans are manufactured in various shapes and sizes and designed to accompany any style of decor, in any space.
The Ottoman's Origin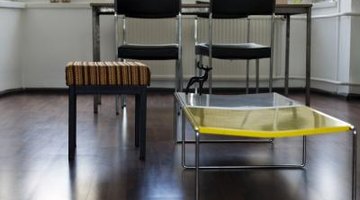 The aptly named ottoman is an adaptation from furniture used in the Ottoman Empire. According to Encyclopedia Britannica, the piece derived from a Turkish style of seating that surrounded three walls of a room, which was later reduced in size and placed in the corner of the room. In the late 18th century in Europe, designers began to adopt this versatile seat; the ottoman evolved into a round cushioned chair without a back, designed to sit in the middle of the room. By the 19th century, the ottoman transformed once again into a round- or octagonal-shaped piece with a padded pedestal in the center and, sometimes, arms sectioning off the seating space.
The Modern Ottoman
With chic appeal and a myriad of functions, the ottoman today is a favored element in interior design. This versatile piece of furniture is used in nightclubs, department stores and homes around the world as a stool, footrest and coffee table for extra storage and a stylish way to keep extra seating nearby. Ottomans come in many shapes and sizes; ranging from densely padded versions to those with low, flat cushions, wooden legs and dust ruffles, matching modern sets and antique treasures. For a cozy and eclectic look, pair a classically tufted round ottoman with a casual side chair in your favorite reading nook.
Living Room Ottomans
As a coffee table, the ottoman is a comfy and functional way to style your living room. It provides a footrest for the couch and extra seating when needed. The soft, upholstered edges are an alternative to the hard corners of a wood coffee table, especially in homes with small children. Choose an ottoman with hidden storage for extra blankets or a quick way to hide the kids' toys. Decorate the top of the ottoman with a serving tray for a solid, stable surface. A piece of wood cut to the size of your ottoman makes a makeshift tabletop, and it can be stored under the couch when not in use. Four small square ottomans placed together function as a central coffee table or separate them for additional seating.
Ottomans Around The House
Use an ottoman around the house in a variety of ways. Place two ottomans at the end of the bed as a quick seat for putting on shoes or a place to set out tomorrow's clothing. An ottoman can even make a substitute for a dog bed. Place a snuggly blanket on top, and Fido will have a throne of his own. Attach wheels to the bottom of an ottoman and keep several around the kitchen and dining room for mobile seating. You can even add a touch of luxury to the bathroom by bringing in a small, tufted ottoman.
References
Resources
Writer Bio
Sarah Hamilton is a professional artist and dressmaker in Los Angeles. She received her Bachelor of Fine Arts in fashion design from the Fashion Institute of Technology, and has since been working in all forms of the visual arts. She is happiest in her studio, painting, sewing, or crafting anything from nothing.
Photo Credits
Eldad Carin/iStock/Getty Images
More Articles