Deck Ideas for Townhouses
Decks on the back of townhouses are typically tiny and don't give you much space to decorate or entertain guests on a beautiful summer day. Don't despair, there are ways to incorporate style into your small space and enlarge it visually with décor and patio furniture so that you have a cozy, intimate place to enjoy nature, socializing, fresh air and sunshine.
Decks With Different Levels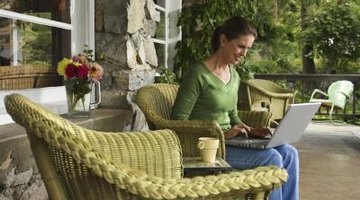 If you own your town home, you can add a bi- or tri-level deck, and even if you rent, the landlord may like the idea of increasing his property's value. This design allows you to designate each level for a particular purpose. For instance, one deck's primary use can be to grill foods on a charcoal or gas grill and the other level can be for dining. Another idea is to have a play area for small children on the bottom level, so that they can run into the yard area when they like; this will keep outdoor toys out of your path. The other level can be a place to entertain your friends or just a quiet, restful respite where you can commune with nature or spend time reading your favorite author's new book release.
Utilizing Your Wall Space
Most townhouse decks include privacy fencing -- or at least lattice fencing -- to provide a semblance of having your own private retreat area. Utilize the space on the walls to hang solar lighting, hanging baskets of plants and flowers and climbing vines. You could also use this space to include a wall-mounted water fountain or hang a bird feeder.
Built-In Furnishings
Using built-in furnishing, such as bench seating along the perimeters of your patio, or using built-in planters for your plants and flowers will make the most of your small spaces. Further space can be saved by utilizing the area underneath your seating as a storage area, by having the bottom of the seat lift up to reveal hidden storage compartments.
References
Writer Bio
Chelsea Fitzgerald covers topics related to family, health, green living and travel. Before her writing career, she worked in the medical field for 21 years. Fitzgerald studied education at the University of Arkansas and University of Memphis.
Photo Credits
Jupiterimages/Stockbyte/Getty Images
More Articles