Bench Railing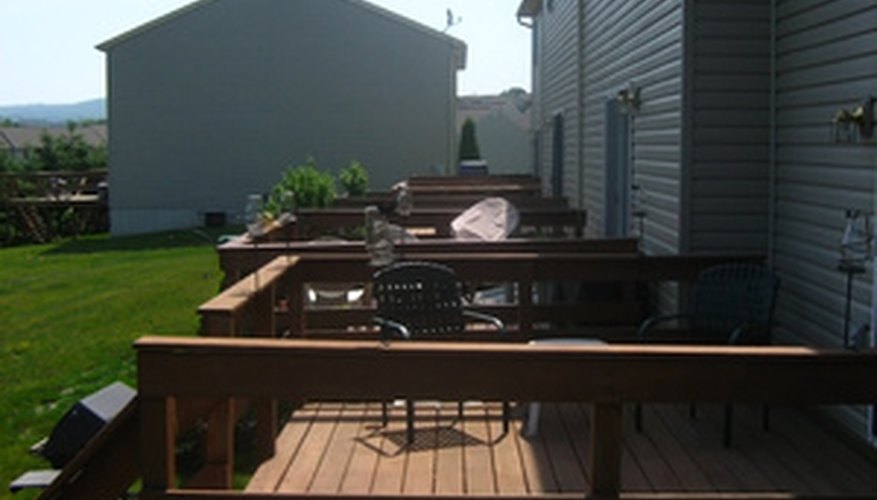 Deck railing provides safety and security while adding an interesting visual element. Deck seating provides functionality and comfort, making the deck a more useful and pleasant space. When you construct your deck, combining the rail and seating elements to create rail seating can dramatically enhance the deck's look and feel.
If you have a low deck where falling off isn't a major concern, you can actually turn the deck's railing into a bench you can sit on. For a strong, good-looking bench railing, you can make a bench using a series of five or six 2x4s put parallel to each other with an inch of space between them. The space between the 2x4s allows rain to drain through so it doesn't collect on the bench. A rail bench should be 14 to 18 inches above the base level of the deck, depending on how high you like your benches and how low you like your rail.
Sloped Bench Railing
Sloping the back of the bench so it's about an inch lower than the front can make a substantial difference in the comfort of your bench railing, especially if people use your benches for prolonged periods of time, such as relaxing during a barbecue or watching an outdoor movie. The slight slope makes sitting for long periods more comfortable, and most people won't even notice that the bench is sloped.
Only slope a bench seat when you are adding a back to your bench railing, otherwise it won't look or feel right.
Backed Bench Railing
If you're deck is high above the ground or if you want to give people the option of leaning back, you can add a supporting back to the deck's railing bench. The bench back, or backrest, should slope outward between 5 and 10 degrees for maximum comfort. An outward slope of more than 10 degrees is too much of a slant, which makes people feel too reclined for comfort. Adding backrests to your deck railing bench is a great way to improve the look, safety and comfort of your rail seating. Combining the backrest with a slightly sloped bench provides a comfortable seating area where people can spend hours enjoying a beautiful day with good friends.
Cushioned Seating
As long as your are going all out with your deck's rail seating, you might as well incorporate some cushions. Buy cushions made from water-resistant material that can easily withstand harsh or extreme weather. Outdoor cushions should also have a way to secure them to the bench, such as strings that can be tied around deck posts. Then the cushions won't end up out of place or upside down.
Using cushions on your deck rail seating will not only add comfort and charm to the deck but also help protect the wood from weathering and color fading from the sun. Choosing cushions is also a fun activity that lets you add another element of personal taste and unique design to your deck.
Storage
When designing your deck rail seating, you can incorporate useful storage. Adding drawers underneath the bench gives your a great place to store outdoor materials like sports and grilling equipment. The drawers can even be locked up, if necessary. You can also turn the bench into a storage chest by building it so that the seat lifts up to reveal the storage space below.
End Tables
You can complement the seating area by turning some of your deck's railing space into built-in end tables. If you add end tables to the design of the deck, you don't have to worry about purchasing small tables that could get damaged or lost. People will find built-in end tables a great stylistic and highly functional addition to any deck.