Most Popular Paint Colors for Laundry Rooms
The laundry room is a household nerve center. It gets daily or near daily use, processing the acquired dirt and stains of every member of the family into neatly folded sweet-smelling stacks of shirts, jeans, sheets and towels. The main processor -- you, perhaps -- deserves an appealing work space that's easy to keep as pristine as that finished laundry. Perennially popular color schemes work well to define the space as both invigorating and relaxing.
Whiter Shade of Pale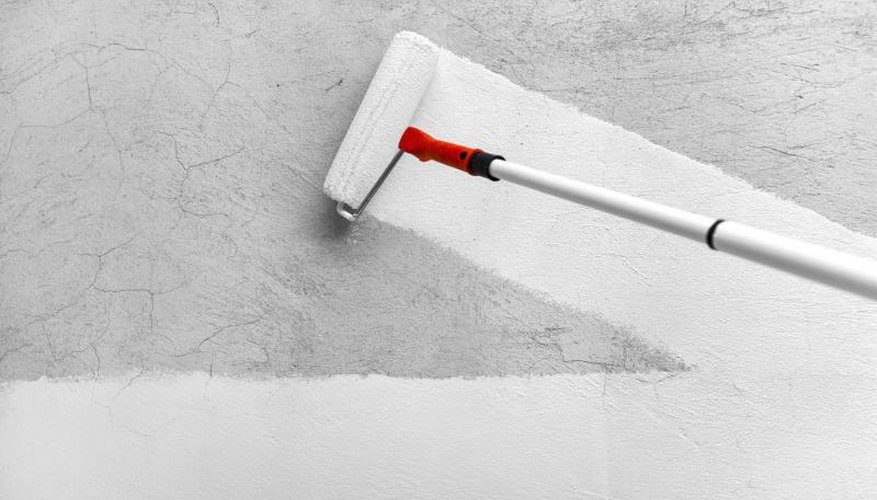 As many shades of white are in the wall paint palette as there are in your weekly laundry load, and any of them qualifies as the default laundry room color. White is clean, bright and, most important, creates a workspace that makes it easy to see the pre-laundry challenges and the post-dryer results. White connotes sanitary, pristine and pure -- the goal of all that sudsing and tumbling. In a white room, the washer and dryer, walls and ceiling, cabinets and trim blend into a seamless cloud of clean -- even the ironing is starkly revealed, wrinkle by wrinkle. But don't be too slavish in your all-white laundry room. Define architectural detail or just relieve the absence of color with a touch of another popular shade on trim or accessories. Pale gray with white is a sophisticated but subdued choice for a laundry room that's chic, not clinical.
Nothing but Blue Skies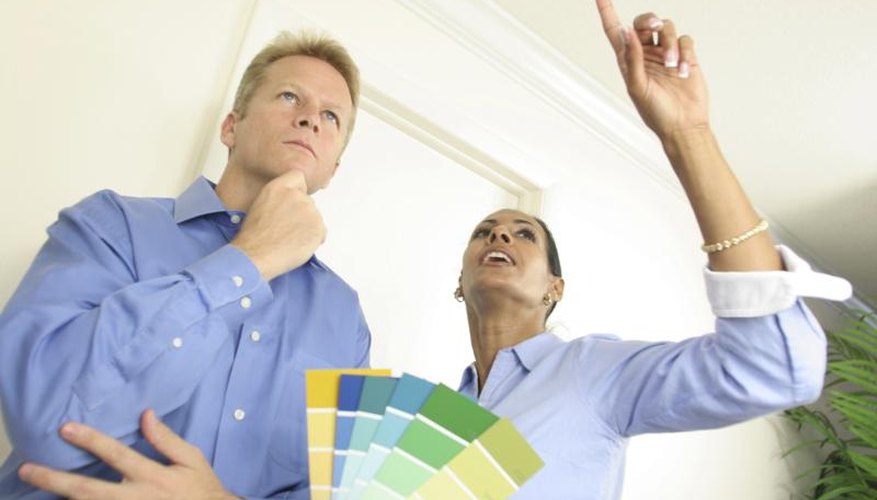 The trend in colors has been moving toward shades of nature, according to the Pantone Color Institute, which tracks and predicts design and fashion colors. Hues from the cool side of the color spectrum evoke the serene skies and the clarity of clean, clear water. Aquamarine or a bold shade of blue with a lot of green in it -- a color called scuba or lagoon -- might relieve white walls as the choice for countertops, cabinets or even the ceiling in a white laundry room. Paint an accent wall in marine blue, or alternate palest translucent blue-green and deeper teal diamonds on a harlequin-painted floor. Paint the room creamy white -- use a low-gloss paint for quick wipe-downs -- and tile a wide backsplash behind the washer and dryer with soft aquamarine or powder-blue glass subway tiles.
Moss and Jade
You might as well de-stress while you're tackling the wash and use the time to double benefit. A serene palette, primarily reflecting one of nature's most restful colors, invites a more relaxed approach to fluffing the towels. Ivory or buttercream-yellow walls recede into the background, leaving your stainless appliances and soft moss or jade cabinets for a touch of Zen. Green is one of those "clean" colors that often shows up in laundry rooms, but it works best as an accent or a very pale tint rather than a complete surround of green walls. Let the laundry room breathe with trim, furnishings or a single wall of light green. Cover the floor in practical and environmentally friendly moss or jade vinyl and add a healthy green plant to emphasize the spa-like simplicity of the space.
Toast and Stone
Toasted almond is both classic and current, a medium-pale bisque that adapts to most decor strategies. Paint the walls in rich toasted almond, trimmed with high-gloss cream for a crisp, modern laundry room that won't be outdated by next year. Keep it luxe with limestone paver floors or a limestone counter. Seal the porous stone to protect it from spills and stains. Toss a sisal mat on the stone floor for cushioning that underscores the organic colors and materials, and add light wood or laminated cream cabinets. White appliances look jarring in a room of off-whites and light browns; replace an old washer and dryer with cream enamel or stainless energy-saver models.