Kenmore Elite Calypso Specifications
The Kenmore Elite Calypso washer works without an agitator, to handle large, heavy loads, and cleans with less wear and tear on the fabrics. The dispensers on this top-loading automatic washer allow detergent, bleach and fabric softener to flow one at a time in the wash cycle. Advantages of the Elite Calypso include an increased load size and reduced noise and vibration. Large laundry loads fit in the trademark King Size Capacity Plus basket to allow washing of large blankets and sleeping bags.
Space Requirements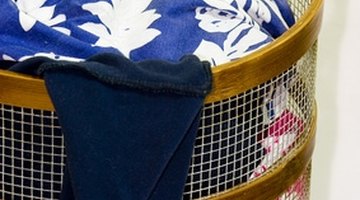 For installation in a closet or recessed area, the Kenmore Elite washer requires a space at least 27 inches wide, and 30 1/2 inches deep. The depth includes a 4-inch clearance at the back and 1-inch clearance at the front. The level floor must support a load of at least 315 pounds, including washer, clothes and water.
Wash Cycles
Kenmore's trademark Calypso wash motion works with a moving platform at the bottom of the stainless steel drum. In place of an agitator or tall spindle, the wash plate allows more vigorous washing by rolling and lifting the laundry load. The nine wash cycles range from the six to at least nineteen preset minutes: wood/silk, express wash, ultra handwash, normal, delicate/casual, bulky items, jeans/colors, heavy duty and whitest whites. Flexibility in wash times allows extra minutes for more soiled and heavy fabrics or fewer minutes for light soil and delicate fabrics.
Prewash and Rinse Options
The two prewash options include saturated soak and stain treat. The saturated soak allows more wash time. The stain treat option allows a larger quantity of detergent and an extended wash time. The three extended rinse/spin options include second rinse, extended spin and rinse spin.
Water Temperature
The Kenmore Elite includes Auto Temp Control that regulates the water temperature for consistent cleaning. The three water temperatures include hot (111 degrees Fahrenheit and above), warm (90 to 110 degrees Fahrenheit) and cold (70 to 90 degrees Fahrenheit). An electronic sensor helps maintain warm rinses at approximately 75 degrees Fahrenheit to conserve energy.
References
Resources
Photo Credits
More Articles