How to Replace the Hose on a Moen Single Handle Pull-out Faucet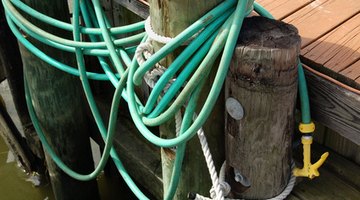 The Moen single handle pull-down faucet -- sometimes called a pull-out faucet -- provides the functionality of a spray hose in a single faucet format. It comes in handy when you need to wash dishes, do prep work or clean. Wear and tear from frequent use can cause a leaky faucet hose, while hard water can cause mineral buildup inside the hose, resulting in poor water pressure. Whatever the cause, it doesn't take much time to replace the faucet hose and you only need one tool to complete the project.
Step 1
Shut off the hot- and cold-water supply valves beneath the sink.
Step 2
Turn on the faucet to release the pressure.
Step 3
Disconnect the pull-down hose from the connector beneath the sink. On the back of connector, squeeze the two white flaps together and push toward the hose. Release the hose from the connector.
Step 4
Pull the hose completely out through the faucet.
Step 5
Slide the small end of the new hose through the faucet opening and pull it through from beneath the sink.
Step 6
Remove the cap on the small end of the hose. Push the end of the hose into the quick connect. Push in the clip on the connector until it clicks.
Step 7
Install the hose weight just below the flat hose weight indicator mark. Snap it closed over the hose to keep it in place.
Step 8
Turn on the water supply valves and run the faucet for 15 seconds to wash out any debris from the hose.
Step 9
Remove the cap from the spray wand. Connect the spray wand to the hose and screw it into place. Tighten it with a wrench until the hose connector is flush with the spray wand, but don't over-tighten it.
References
Writer Bio
Shelley Marie has been writing professionally since 2008 for online marketing and informational websites. Her areas of expertise include home, garden and health. She holds a Bachelor of Science in business administration and an associate degree in medical billing and insurance coding, both from Herzing University.
Photo Credits
garden hose image by Sirena Designs from Fotolia.com
garden hose image by Sirena Designs from Fotolia.com
More Articles