How to Display Military Uniforms
Displaying a military uniform in your home or office is a great way to honor those who have served in our Armed Forces. Whether it be the uniform of an ancestor, that of a fallen loved one or your own, a display memorializes this selfless service.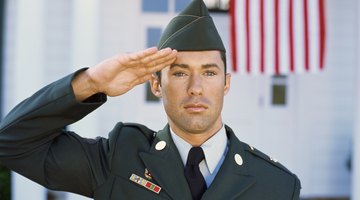 Things You Will Need
Wooden display case (or materials to build your own)
Pins
Medals or other military achievements
Double-sided tape
Picture mounting screws
Screwdriver
Although there are other ways to display a uniform, one of the most popular options is to use a display case that can be hung on a wall or placed on a shelf.
Choose the right display case. They come in a variety of styles, woods and colors. Choose one that best exemplifies the service person's personality. For example, a serious, quiet type might be honored with a classic walnut display case. If you want, you can build your own display case. Whatever you decide, it's best to choose a display case with a removable Plexiglas panel that won't break if the display case should fall.

Fold the uniform neatly so that the shoulders and chest of the jacket are centered. Ironing with starch or dry cleaning is recommended to remove wrinkles and stiffen the material into place.

Pin the sleeves down discreetly so that no pins are shown while on display. Pinning the sleeves will ensure that the uniform is symmetrical when inserted in the display case.

Pin medals and secure patches with double-sided tape to the appropriate place on the chest and sleeves of the uniform. Ask your local military recruiting officer for help to make sure they are in the right location on the uniform.

Place uniform in display case and make adjustments to ensure that it is displayed evenly. You may want to use some double-sided tape to secure the uniform into place.

Screw a wall mounting screw into the wall where you would like to display the uniform. Make sure that you screw into a stud, which will hold the weight of the case. You may try Hercules hooks, which can hold up to 30 pounds.

Hang the display case and make sure it is straight. A good place to display the uniform is in a den or hallway where it can be admired by the most people.

Tip

You can display any type of uniform in the same way.

Warning

If you don't screw the case into a stud, you could rip the screw (and the drywall) out of the wall with the display's weight.
References
Writer Bio
A former cake decorator and competitive horticulturist, Amelia Allonsy is most at home in the kitchen or with her hands in the dirt. She received her Bachelor's degree from West Virginia University. Her work has been published in the San Francisco Chronicle and on other websites.
Photo Credits
Stockbyte/Stockbyte/Getty Images
Stockbyte/Stockbyte/Getty Images
More Articles