How to Decorate With Mesh Netting
Lightweight mesh netting such as mosquito netting provides an abundance of options when it comes to decorating. Create your own fairy- or forest-themed bed canopy, design a delightful reading nook in a corner of a teen's room, or add an air of elegance or ocean inspiration to your outdoor spaces, all with netting.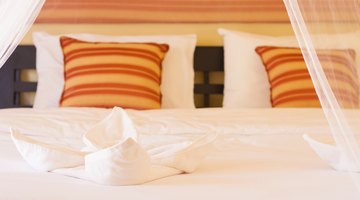 Bed-Canopy Creations
Create a canopy fit for an adult, or even a child interested in fairies or princesses, using lightweight mesh netting or tulle. Form netting "curtains" around a poster bed, or make faux posts using large telescoping tension rods. Add a top canopy from a large piece of tulle or netting for added effect. A curtain rod on a wall behind the bed serves as support for one side of a canopy for a bed without posts. Hang the other end of the canopy from a lightweight curtain rod connected to hooks in the ceiling, using ceiling anchors for added strength. Give the bed canopy a forest or hunting theme by attaching silk faux leaves to the netting using bits of fishing line or thin craft wire, or string strands of fairy lights along some of the netting for a mystical or fantasy effect.
A Cozy Corner
Create a delightful reading or relaxing area around a favorite armchair, chaise or daybed with a homemade netting canopy or curtain. Cut two long pieces of netting so they'll reach from ceiling to floor with netting left over, then attach one end of each around a hula hoop, stitching it in place by hand. Attach bits of thin rope or chain to the hoop so it hangs horizontally then attach the hoop to a ceiling hook over your favorite reading or meditating space. In a young child's room, use the netting to create a curtain for a pretend tent underneath a loft bed.
An Outdoor Affair
Turn a patio or any outdoor space into a makeshift "room" using tulle or mosquito netting as the lightweight walls. Push long, sturdy bamboo poles into plant pots for each corner of your outdoor dining or relaxation space, then tie clothesline or thin bamboo rods horizontally near the tops of the posts to hang your makeshift curtains. Sew a pocket or use pins to secure the top of the netting to the clothesline or horizontal bamboo rods. Staple tulle or mosquito netting around the inside perimeter of a gazebo or a non-screened porch to give it an elegant vibe for entertaining.
The Layered Look
Add a special touch to plain white tablecloths for a special event using tulle of another color, draping down a bit over the edges of each table. Pair gold with white for an elegant touch, or use school colors for a graduation party. Use scrap mesh to create pouches for party favors, tying them closed with bits of ribbon.
References
Resources
Writer Bio
Kathy Adams is an award-winning writer. She is an avid DIYer that is equally at home repurposing random objects into new, useful creations as she is at supporting community gardening efforts and writing about healthy alternatives to household chemicals. She's written numerous DIY articles for paint and decor companies, as well as for Black + Decker, Hunker, Landlordology, SFGate and others.
Photo Credits
kettaphoto/iStock/Getty Images
kettaphoto/iStock/Getty Images
More Articles