How to Program the Keypad for a Stanley Garage Door
One of the benefits of having a Stanley Garage Door Opener is the ability to remotely open your garage. This opening can take the form of a remote control which is in your vehicle or a key pad located on the outside of the house. In order to get the key pad working, you will have to program it.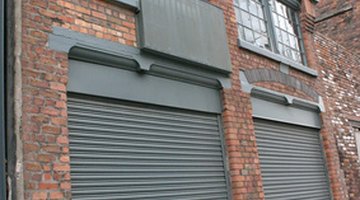 Things You Will Need
Stanley Garage door opener
Keypad
Pencil
Paper
Once the keypad is programmed, you will be able to use it to enter your garage any time you wish.
Determine the type of opener you have by looking at the rear of the power unit hanging in your garage. If the unit has a button marked "Learn," you have a SecureCode opener. If not, your opener is digital.

Locate the toggle switches or jumper wires on the back of the power unit if you have a digital opener. These toggles or wires will determine the radio code (only used for digital openers). Look at the toggles and note which ones are in the "ON" position or which wires are unclipped. The numbers of the "ON" toggles or unclipped wires will be your radio code. (For example if toggles 2,6,7, and 9 are in the "ON" position, 2-6-7-9 in your radio code. If wires 4,5, and 9 are unclipped, your code is 4-5-9.) Write the code down.

Press the "Access Learn" key on the keypad button two times. The indicator light will blink twice and stay on. Enter the old code of the key pad (or if this is the first time the key pad is set, enter "1-2-3-4").

Enter your new 4 digit code by pressing the buttons in the correct order. Press the "Access Learn" key one more time once the new PIN is input.

Press the "Radio Learn" key on the keypad twice if you have a digital opener. The indicator light will stay on. Enter your PIN which you just set and then enter the radio code from the garage door opener. Press the "Radio Learn" key to set the radio code.

Tip

Make your pin something which is not easily guessed. Anyone who knows the pin can enter your garage at any time. Guard this as you would your ATM number.

Warning

If the LED light flashes at any point of the programming, you will need to reenter the information. The flashing means that the keypad didn't accept the input.
References
Writer Bio
R.L. Cultrona is a San Diego native and a graduate of San Diego State University. She holds a Bachelor of Arts in theater, television and film with a minor in communications and political science. She began writing online instructional articles in June 2009.
Photo Credits
no parking image by green308 from Fotolia.com
no parking image by green308 from Fotolia.com
More Articles