Ideas for Living Room and Sunroom Curtains With Mustard Walls
Mustard is a very subtle color that evokes the softened, sunny shades of the Mediterranean or the rich jewel tones of royal tapestries. It can lend an air of casual warmth to a sunroom, set the tone for an ornate salon design or just blend into classic or contemporary decor.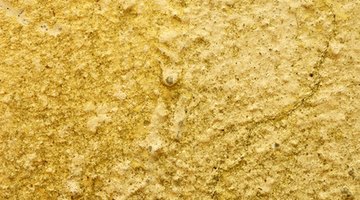 Mustard goes with teal, red, brick, cream, white, acid greens, moss and patterns from cottage gardens and the African savanna.
A French Retreat
A sunroom with color-washed mustard walls is a Provencal palette waiting to happen. Color washing lightens the impact of the mustard color into a more earthy and warm tone. A floor of terra-cotta tiles adds a Mediterranean flair to this room, especially if French doors lead to a tiled patio. But, whether you are covering a wall of windows and glass-paned doors or just a few windows, try Roman shades of that dusky blue with just a hint of turquoise that goes so well with South-of-France color schemes. A squashy sofa in an old brick red offsets the blue shades nicely against the pale mustard walls. Or, reverse the colors and use brick red linen shades on the windows, with brick and cream-patterned draw drapes to cover any French doors and a faded denim sofa with turquoise, terra-cotta, mustard and chartreuse throw pillows.
Aisan Influence
Highlight the rich gleam of embroidered silk in a living room with suede-finished mustard-colored walls. Choose floor-to-ceiling drapes in faded blue-turquoise velvet or cotton velvet. Hang them over white sheers as a backdrop for rust-upholstered furniture with embroidered Chinese silk throw pillows in teal, mustard and Forbidden City red. Potted ferns and peonies add texture and a touch of green to the room—position them in front of the windows to offset the plush velvet. Or, take a different tack and hang drapes of yellow, cream and red plaid silk along an entire windowed wall. Use lots of warm orange-reds, cream and moss green to cover furniture and carpet the floor. The mustard walls expand the sunny window treatment. To keep the room really light, paint one wall and the ceilings the same shade of cream as the upholstery.
Red, White and Wild
For a high-style contemporary sunroom, create an unusual window treatment against the canvas of mustard walls. Hang red paper shades in the window, inside the window frame. On either side of the window, hang long white beaded curtains. Across the top, twist a length of black and white zebra print material around the rod that holds the beaded curtains. Keep the rest of the room's furnishings simple—all white painted or upholstered chairs and sofas, stenciled animal shapes on white and mustard pillows, white paper shade hanging globes or table lamps. Ebony-finished floors are perfect in this room, to reflect the black and white valances. A zebra-striped beanbag and a Chinese red media cabinet finish the look. White orchids or dark green leafy plants stand out against the red shades when they are down and soak up the sun during the day.
References
Writer Bio
Benna Crawford has been a journalist and New York-based writer since 1997. Her work has appeared in USA Today, the San Francisco Chronicle, The New York Times, and in professional journals and trade publications. Crawford has a degree in theater, is a certified Prana Yoga instructor, and writes about fitness, performing and decorative arts, culture, sports, business and education .
Photo Credits
Background. wall. Structure of an old surface image by Petr Gnuskin from Fotolia.com
Background. wall. Structure of an old surface image by Petr Gnuskin from Fotolia.com
More Articles