Picture Hangers that Don't Damage the Wall
Avoiding wall damage while hanging pictures is a priority for homeowners and renters, especially if the artwork will be changed frequently. Optimally, pictures and mirrors are hung without making holes in the walls, but this is not always possible.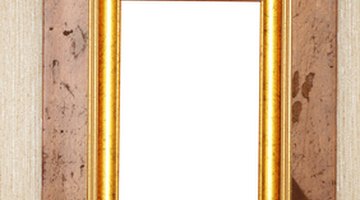 Heavier items require more support than is provided by removable-adhesive picture hangers. Fortunately, there are options for hanging pictures that do little damage to the walls.
No-hole Picture Hangers
Several commercially-available self-adhering, removable picture hangers will securely hold lightweight pictures to a wall. Most require a smooth surface for optimal adhesion and are not recommended for hanging pictures on wallpaper or vinyl. Do not use adhesive foam tape that is typically used for weather stripping. It is difficult to remove and may damage the wall.
Suspending Heavier Pictures
Common picture hangers with a bent steel or brass strap and a wire nail are inexpensive and leave only a small hole in the wall, which can be filled when you no longer wish to hang a picture there. Curved-wire picture hangers are also effective for hanging heavier pictures and leave only a small hole in the wall. Unfortunately, the small wire or nail may eventually bend and fail under the weight of a heavy picture or mirror. An effective solution is to distribute the weight of the picture or mirror over a larger area by affixing several picture hangers in a horizontal line on the wall. A wire attached to the back of the picture hangs on the picture hangers.
Picture Rail
Picture rails are specialized wood molding or metal rails that are affixed to the wall, usually between the door frame and the ceiling. Movable hooks, attached to the rail, suspend wires, cables or ribbons that are attached to the back of the picture. Pictures may be removed or repositioned without damage to the wall. You can buy pre-made picture rails or make them yourself with common carpentry tools and supplies.
References
Writer Bio
Denise Nyland "Denisen" is a long term resident of Panama City, Fla. She studied radiologic sciences and education and has published articles in multiple professional journals and contributed to various educational texts.
Photo Credits
frame of the picture on the wall image by Elnur from Fotolia.com
frame of the picture on the wall image by Elnur from Fotolia.com
More Articles