How to Replace a Dyson Battery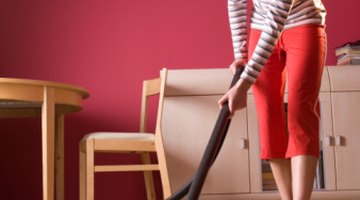 Dyson, the vacuum company that revolutionized the industry with its bagless cyclone technology, has added handheld vacuums to its product line. Handheld Dyson vacuums, like the DC16, the DC31 and DC35, give you the suction and convenience of a Dyson without having to worry about cables. The handheld vacuums are powered with 1500mAh lithium ion batteries you can recharge by simply storing the vacuum on its stand and plugging the stand to the wall. However, a common complaint is its short battery life. One solution is to have a spare battery and replace your Dyson's battery with a fresh one. Lithium batteries will wear out with use and need replacing. Sometimes batteries are faulty or are not maintained correctly and you will need to replace them sooner. In any case you need to know how to replace the battery of your model.
Tip
Dispose the used battery by following your local government's regulations.
Warning
Don't try to open the battery. It contains toxic material that can be dangerous if it leaks from the sealed container. If acid leaks from the battery and comes in contact with your skin, wash away with soap and water. If you inhale the vapors from the acid, move to a source of fresh air and seek the advice of a medical professional.
Place the handheld vacuum so the back of the handle is facing you. The battery is located inside the handle.

Press the tab on the top of the battery cover and slide the cover down. In the DC31 model you will need to press a silver button and then slide the cover off.

Remove the battery from the vacuum. Replace with a new battery. Align the battery terminals with the ports in the battery holder to avoid damaging the battery.

Place the vacuum on its stand and plug the stand into the wall. Wait for the battery to be fully charged before using. If the new battery is already fully charged, you can start using the vacuum immediately.
Writer Bio
Andrew Latham has worked as a professional copywriter since 2005 and is the owner of LanguageVox, a Spanish and English language services provider. His work has been published in "Property News" and on the San Francisco Chronicle's website, SFGate. Latham holds a Bachelor of Science in English and a diploma in linguistics from Open University.
More Articles