How to Decorate a Small Attached Living & Dining Room
Decorating a small attached living and dining area can be a headache, and creating distinctly separate rooms with minimal space can be a design challenge. But a tiny living space doesn't have to feel like a shoebox; with a little guidance and preparation, your home can go from cluttered and cramped to wonderfully cozy.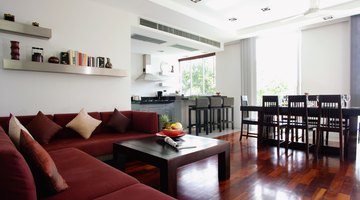 And the best part? Your renovation doesn't have to cost a fortune.
Empty out the living and dining rooms, moving the furniture well out of the way for now. You need to be able to plan out your space without having to climb over the sofa to get from one end to the other.

Select an interior latex paint in a light, neutral color, and paint both rooms in the same hue. Choose a satin finish, which will be less reflective and add depth to your walls. Light colors will make the room feel more open and bright, and painting both rooms in the same color will keep the areas from seeming boxy and enclosed.

Use furniture to define the spaces, and treat them as two distinct rooms. Orient your dinette set or dining table in the center of the dining room. Arrange the living room furniture around a focal point, such as a TV or fireplace. Splitting the rooms in this manner visually enlarges the space by creating purposes for each room. The unified paint color, meanwhile, prevents the eye from becoming distracted.

Add bright, airy accent elements. Small spaces are often shrunken by bold decorating styles, so understatement is the key with your decor choices. Look for lamps with delicate, slender bases and light colored shades; hang pictures with narrower frames, and try to avoid cluttering your wall space. Select draperies and curtains in lightweight, sheer fabrics.

Get organized. Perhaps the best way to maximize the appearance of space in a small, attached living and dining space is to do a little spring cleaning. Get rid of furniture that isn't necessary to the space, and minimize decorative elements. Clutter drastically reduces the impression of space, so making sure that every object has a designated place can do wonders for opening up your home.
Things You Will Need
Interior house paint
Roller
Brushes
Tip
If your budget allows, consider new furniture for the dining and living rooms. Small, drop leaf-style dinette tables are perfect for tiny spaces; you can always pull out an extra chair or two for company. Minimalist sofa and chair designs also work better than large, overstuffed versions, which make a space appear cramped.