Bedroom Decorating Ideas for a 13-Year-Old Girl
Table of Contents
A teen girl's bedroom is her hangout. It's where she hosts sleepovers, studies, listens to music and hangs out with her friends. If your daughter is 13, you need to ditch the teddy bears, unicorns and pale pink walls.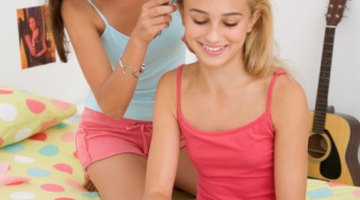 She's old enough for a more sophisticated, glamorous room yet still young enough to want something fun and funky. Making over a teen girl's room is easy when you pick a theme and run with it.
Peace Out
Teens love peace signs, and they make an easy room theme because in the realm of ready-made bedding, there are many peace sign motif options available in stores. Choose a color scheme, such as purple and aqua, lime green and hot pink, or any combination of your daughter's favorite colors for paint and accessories. You can even paint peace signs on the walls or ceilings, or apply peace sign wall decals.
Rock Star
If your daughter has stars in her eyes, make up a rock star room for her. Black, silver and red make an appropriate color scheme for this room; however, you can use any color scheme your daughter prefers. Colorful, framed concert posters are the ideal wall art in a rock star room. An inexpensive wall art idea is to paint the lyrics of a favorite tune on the wall in a funky font. Fun accessories to have in this room include an electric guitar and amp, a stand microphone, an assortment of funky hats hanging on the wall and at least one large mirror.
Wild Zebra
Zebra is a big trend in decorating. For a teen girl's room, mix black and white zebra-striped bedding and curtains with one or two bright solid colors, such as hot pink, purple, lime green or orange. For example, paint lime green walls and buy black and white zebra bedding and hot pink curtains with black and white zebra trim. Look for zebra-striped rugs and accessories, but don't go overboard with the stripes. Use zebra wisely so it stands out and is the focal point of the room.
Fashionista
If your daughter loves fashion, she'll love a fashionista room. Use chic, sophisticated bedding in dressmaker fabrics such as satin or taffeta. Look no further than her closet for wall art; simply hang a series of coat hooks on the wall, and artfully arranged hats, purses and scarves serve as decorations for her room. Framed fashion magazines covers, a dress form or two and at least one full-length mirror complete the look. A chair shaped like a high-heel shoe is an over-the-top show stopper.
Splatter Paint
Splatter painting your daughter's walls is an enjoyable project she'll have a blast completing. Enlist her friends to help, and the project is even more entertaining. Let her choose her own color combination, whether it's neon brights splattered onto a black background, primary colors on white or hot pink on yellow. Because the walls will be quite busy with pattern, choose solid-color bedding and window treatments.
Sports Nut
Decorate your daughter's room around her favorite sport, whether it's volleyball, gymnastics, basketball, cheerleading or some other sport. If she has a favorite football or baseball team, look for bedding and accessories with her team's logo and colors. If she plays her favorite sport, have posters or pretend sports magazine covers made from photos of her. Display trophies on shelves, and hang a large bulletin board on the wall for ribbons and medals.
References
Writer Bio
Sandra Rousseau has been writing since 1990, covering such topics as home decorating, fashion, health, beauty, gardening and cooking. Her articles appear her hometown newspaper, the "Aledo Community News," and on various websites. Rousseau holds a Bachelor of Arts in journalism and advertising from the University of Texas at Arlington.
Photo Credits
Jupiterimages/Goodshoot/Getty Images
Jupiterimages/Goodshoot/Getty Images
More Articles