How to Clean a Box Spring
Box springs are the foundational support for mattresses. They are composed of a wooden frame filled with bed springs. Most are then covered with fabric, but some are covered with vinyl, which makes them easy to wipe clean. The bottoms of box springs are covered by a loose dust cover.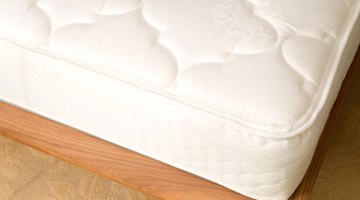 Box springs, like mattresses, can harbor dust mites and bed bugs, so they should be cleaned every time you flip your mattress or about once every three months.
Things You Will Need
Vacuum with hose attachment
Stain remover
Rag
Tip
Setting your box spring out in the hot sunlight for a few hours can kill mold, according to Allergy Consumer Review.
Remove the mattress and set it aside. You may need someone to help you do this if your mattress is larger than a twin.

Vacuum the box spring thoroughly with a hose attachment. Pay special attention to the cracks and crevices where bedbugs like to hide and where dirt accumulates.

Lift up the box spring and prop it up against a wall to allow access to the dust cover on the bottom. Vacuum around the dust cover.

Use stain remover and a damp rag to spot-treat any stains. Do not thoroughly wet the box spring. Let it air-dry completely before putting the mattress back on top of the box spring.