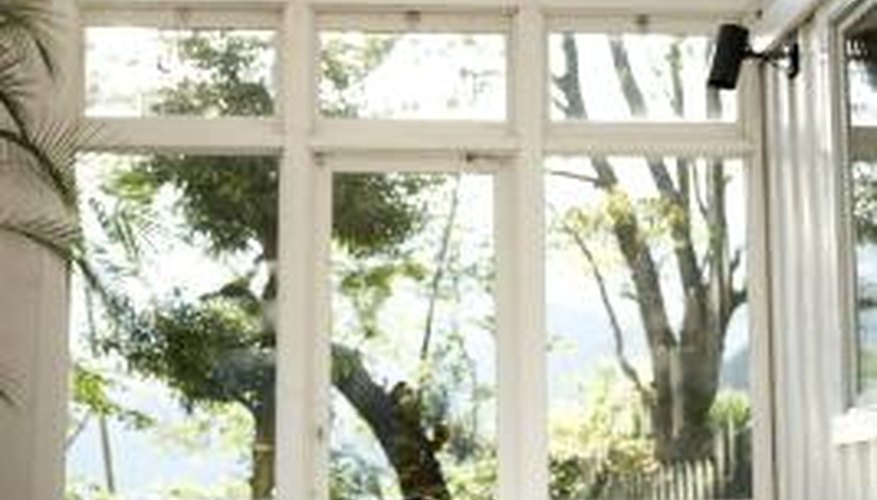 Narrow rooms often feel cramped and claustrophobic. Many times this uncomfortable feeling is due to room arrangements, accessories, furniture and paint colors that aren't suitable for small, narrow rooms. Using the interior design principles of color, harmony and balance can make a narrow room appear wider.
Step 1
Reduce clutter by removing knickknacks, decorative items, wall hangings and plants. Clutter decreases the visual space in a room, whereas removing clutter promotes a sense of tranquil spaciousness.
Step 2
Remove window treatments if you have a pleasant outdoor view, providing light and visual depth to the room. Bright, airy rooms look and feel more spacious. Install simple woven, matchstick or fabric blinds for a simple, uncluttered look that will provide privacy when necessary.
Step 3
Apply a fresh coat of paint to the walls and ceiling. Lighter colors -- whites, beiges, creams, icy blues -- in satin finishes tend to reflect more light, making a room appear larger. Use a slightly darker shade on the shorter walls and a lighter color on the longer walls to make the room look wider.
Step 4
Remove large area rugs to give the illusion of more floor space and a wider room.
Step 5
Arrange furniture away from doors and walkways, creating functional traffic patterns. Armless chairs and benches take up less space, and see-through glass tables give the illusion of a larger space. Rid the room of large, heavy-looking, wooden furniture pieces; they are not in proportion, or harmony, with the rest of the narrow room. Small sectionals are ideal to provide ample seating in tight spaces.
Step 6
Place table lamps, floor lamps and up lights in the room to provide ample artificial light. Brighter spaces appear larger. Hang a decorative chandelier to draw the eye upward in the room, away from the walls.
Step 7
Hang a large framed picture or an arrangement of black-and-white framed photographs, centered on one of the walls. Position the picture or grouping a little higher than midway up the wall, providing a focal point to bring your eyes up and away from the narrow walls.
Step 8
Position a large mirror on a wall opposite a window to provide balance to the room, as well as a reflection of the outdoors, making the room appear wider.
Things You Will Need

Woven or matchstick window blinds
Latex interior paint
Painting supplies
Armless chairs
Benches
Glass tables
Sectional sofa
Table lamps
Floor lamps
Up lights
Framed picture
Large mirror