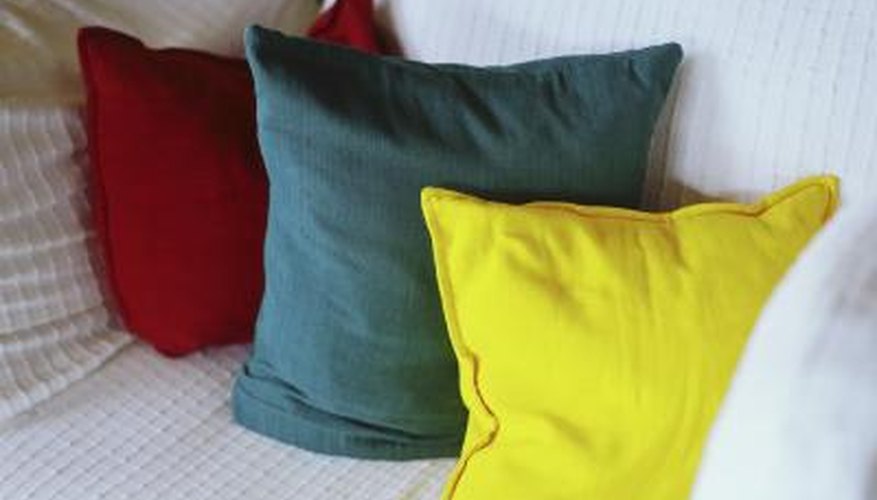 An ugly couch that no longer matches your decor or is damaged in some way needs to be covered. You can cover an ugly couch in many ways, some of which are more effective and more expensive than others. If you are planning on replacing the couch in the near future, choose a quick fix for when you have guests until you replace the couch.
Step 1
Put throw pillows on the couch that complement other colors and pieces of furniture in the room. You can use a few large pillows to cover up the majority of the couch or spread smaller pillows out over the seating area to disguise the sofa.
Step 2
Use small decorative blankets to draw attention away from the couch. A beaded or embroidered blanket that works well with the color of the couch can make it look much better. If your couch has damaged areas, you can use several decorative blankets as long as they blend together well.
Step 3
Place tall potted plants behind or near the armrests on the couch to draw attention away from the couch. In general, green plants work well in most rooms and with most color schemes, but other types of plants, like silk olive orange trees might be more attractive, depending on your decor.
Step 4
Buy a fitted slipcover for the sofa with a more appealing pattern or appropriate color. If you have an odd sized sofa or sectional, you might need to have a slipcover made for you by an upholsterer. While it'll be more expensive to have a custom slipcover made for you, you will have more fabric options and the overall fit will be much better than a pre-made slipcover.
Step 5
Cover the sofa with a textured fabric such as a faux fur runner or cable knit fabric. Use a heavy fabric that will give the couch a sort of shabby-chic look instead of looking like you just covered the couch with an old blanket you had lying around.
Things You Will Need

Throw pillows
Small decorative blankets
Tall potted plants or trees
Fitted slipcover
Heavy textured fabric
Tip
If you have young children or the sofa gets a lot of use through entertaining you should probably stay away from light-colored throw pillows and blankets, especially if the fabric is not washable.