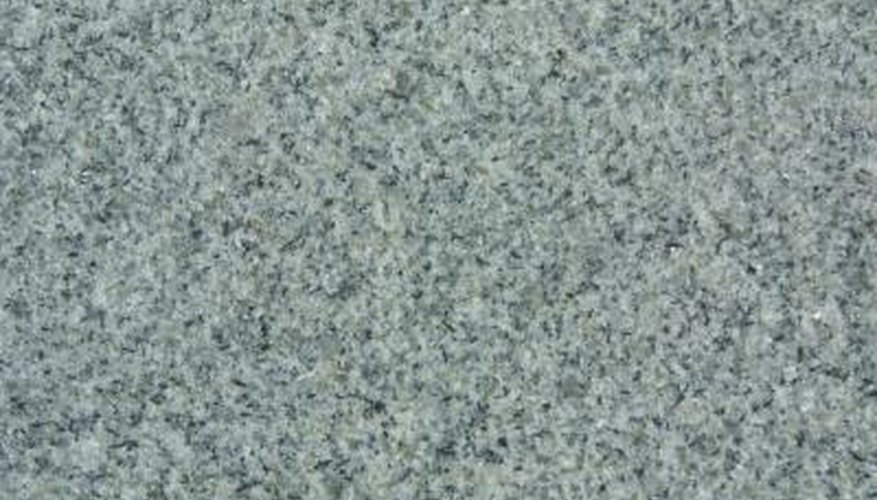 Falling screws or heavy debris can scratch and chip your granite countertop when removing upper cabinets and cabinet doors. Damage can be prevented by simply covering your countertop with a drop cloth, if you're only replacing the upper cabinets. However, most homeowners replace all kitchen cabinets at the same time, and when replacing the bottom cabinets, the entire countertop must be carefully removed and protected.
Step 1
Cover your granite countertop with a drop cloth. The drop cloth will catch any bits of broken tiles falling from the backsplash, which must be taken down before removing the countertop.
Step 2
Wedge the blade of the crowbar between the wall and the backsplash tiles. Hit the handle end of your crowbar with a hammer, making sure the blade on your crowbar is facing down and not in toward the wall. This will loosen up any adhesive cementing the backsplash to the wall. Pry the backsplash away using the crowbar.
Step 3
Turn off the water underneath the kitchen sink, and disconnect the piping from your sink using a wrench. Wedge a putty knife between the sink and cabinet top, and hit the handle with a hammer until the knife is inserted a few inches. Wedge a pry bar between the sink and the putty knife, and pry upward to remove the sink. Be extra careful at this point because you can easily damage, crack or ding the countertop. Hit the crowbar gently with the hammer.
Step 4
Remove the large pieces of backsplash tile from the drop cloth. Then remove the smaller pieces and debris by shaking it outdoors. Place the drop cloth back over the countertop.
Step 5
Remove any screws holding the countertop in place, with an electric drill and screwdriver bit.
Step 6
Press the crowbar between the granite countertop and the cabinet. Hit the crowbar with the hammer to loosen the adhesive seal between the cabinets and the countertop.
Step 7
Push the countertop up with the crowbar, very gently to avoid breaking it. Have someone hold this loosened end up, while you repeat the process every few inches along the countertop. You and your helper can then lift the countertop up and place it on a carpeted surface.
Step 8
Wrap the countertop in bubble wrap, and tape the wrap to secure it. This will keep your granite from being scratched or dinged if you have traffic going in and out of the room while replacing your cabinets.
Things You Will Need

Drop cloth
Crowbar
Hammer
Wrench
Drill with screwdriver bit
Putty knife
Pry bar