How to Find a Model Number on an Amana Refrigerator
Finding the model number on your Amana refrigerator can be vital when repairs or parts are needed, because many parts are model-specific. Model numbers usually appear on a metal plate or sticker affixed to the door of the refrigerator. Several numbers appear on the tag, including the model number, serial number and power rating. The plate is small, so you may need a flashlight and magnifying glass to read the model number.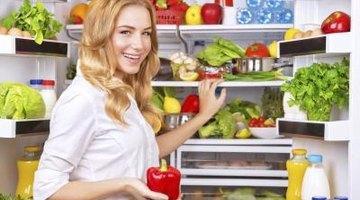 Step 1
Open the refrigerator door. Look on the left and right wall and on the doorjamb.
Step 2
Remove the lower crisper door if you don't find the tag on the refrigerator door. Look on the wall and in the back for the model tag. Continue to the next step if you don't find the tag.
Step 3
Remove the kick plate at the bottom of the refrigerator. Use a flashlight to determine if the model tag is in this location. Use a flashlight as needed to read the tag.
References
Writer Bio
Based in Minneapolis, Dawn Marcotte has been writing for more than 10 years. Her recent writing has turned to nonfiction and includes articles on home and garden, education, crafts and automotive subjects. She currently has several eBooks published and available online. Marcotte has a Bachelor of Science in elementary education from the University of Iowa.
Photo Credits
Anna Omelchenko/iStock/Getty Images
More Articles