How to Fold Up a Wood Futon Bed
Though there are many designs of wooden futon frame, most come in one of two varieties: the couch frame and the trifold frame. Both styles can sometimes be a challenge to newcomers, but with a little bit of practice it becomes second nature. While starting out, make things easier on yourself by removing the futon mattress from your frame before folding; however, before long you'll find you can do it all with the mattress in place.
Couch Frame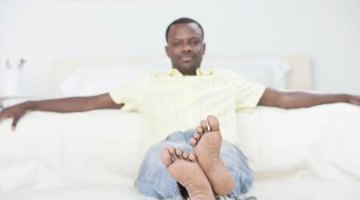 Step 1
Stand where you can grip the futon frame while bracing the legs with your foot.
Step 2
Slide the futon frame three or four inches forward in relation to the legs.
Step 3
Slide the frame backward while pulling upward as well. Within an inch or so, the pegs of the frame will slide upward into the track for upright position.
Step 4
Pull the frame upward, bending it at the hinge in the middle, until the couch back side of the frame in completely upright. Note that "upright" doesn't necessarily mean perpendicular to the floor in some models.
Step 5
Check the front of the futon couch (where your knees will go when sitting). Some models have a support post that folds down near the center. If your model has one, fold it down.
Tri-Fold Futon Frame
Step 1
Locate the two sets of hinges in your futon frame. One set will fold downward (so the peak rises away from the floor), the other will fold upward (with the peak sinking toward the floor.
Step 2
Pull up on the downward folding hinges. The hinges will rise as two thirds of the futon frame fold in a downward-facing "V". Pull upward until what was the edge of the bed frame now rests flat against the floor.
Step 3
Adjust the position of the upward folding hinge, which should have folded to around 90 degrees during step two. You can increase or reduce the angle to suit how much you want to recline in the chair/couch position of your frame.
Step 4
Check the points where your futon touches the floor. Some will have stabilizing pegs or other mechanisms to keep the frame from slipping. If not, consider sliding it against a wall for extra stability.
References
Tips
Both styles of frame are much, much easier to do with a partner.
Writer Bio
Beverlee Brick began writing professionally in 2009, contributing to various websites. Prior to this, she wrote curriculum and business papers in four different languages. As a martial arts and group fitness instructor, she has taught exercise classes in North America, Europe and Asia. She holds master's degrees in French literature and education.
Photo Credits
Jupiterimages/Photos.com/Getty Images
More Articles