How to Install LG Dishwasher Clips
LG dishwashers have two modes of connection to the counter rough-in. Two clips connected to the top of the unit can screw under the countertop lip; alternatively (or additionally), two more clips can be installed on the sides to secure to the side of the cabinet rough-in, in the event that the counter material becomes damaged during drilling. After the clips are installed, each clip calls for a single screw to secure the dishwasher.
Under-Counter Clips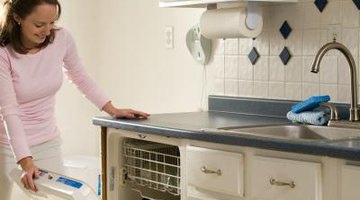 Step 1
Locate the small slots on top of the dishwasher, just behind the front door. These can only be observed with the unit pulled out of position (prior to installation).
Step 2
Insert the longer counter clips into the slots, tab side up. Bend the clips down so that the flat portion of the clip with the screw holes are parallel with the top of the dishwasher. Use the flat head screwdriver to bend the small, rounded portion of the rear of the tab over the top of the slot's mounting trim.
Step 3
Slide the dishwasher into the rough-in. Ensure the unit is level, adjusting the feet on the bottom of the dishwasher by hand. Secure the dishwasher to the countertop using the supplied Phillips screws and drill with Phillips bit attachment.
Side Clip Installation
Step 1
Locate the small clip slots on the sides of the dishwasher (visible with the dishwasher pulled out from the mounting location). Insert the clip into the slots, and bend down so that the clip is perpendicular to the floor.
Step 2
Bend the small rounded portion of the clip on the rear of the tab over the top of the slot's mounting trim, using the flat head screwdriver.
Step 3
Remove the cosmetic caps on the inside of the dishwasher, located just inside the door, using the flat head screwdriver. Be careful not to mar the inner skin surrounding the caps.
Step 4
Slide the dishwasher into its installed location. Check the unit's level prior to finalizing the install. Adjust the leveling feet by hand if necessary.
Step 5
Insert the supplied Phillips screws exposed by the removed cosmetic caps, and secure with the drill and Phillips bit. Make sure the screw passes through the hole on the mounting clip prior to finalizing.
References
Resources
Writer Bio
David Lipscomb is a professional writer and public relations practitioner. Lipscomb brings more than a decade of experience in the consumer electronics and advertising industries. Lipscomb holds a degree in public relations from Webster University.
Photo Credits
Jupiterimages/Photos.com/Getty Images
More Articles