How to Make a Sign Stand
Whether advertising a yard sale, lemonade stand, birthday party, outdoor wedding reception or any other function, you might need a sign stand–sturdy enough to last for at least a few days. With the right tools you can make a sign stand in just a few minutes.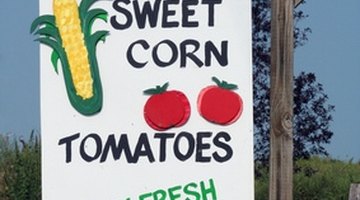 Determine the location of your sign stand. Check the approach to the location for good visibility–look out for low-hanging branches or other obstacles that might obscure your sign.

Dig a narrow hole one foot deep, and place the post in the hole. Fill the hole in with loose dirt.

Straighten the post with a level, and pack the dirt at the base when the post is straight. Tamp the ground around the post with a soil tamper.

Attach a 1 x 2 inch wooden board to the top of the post so that the center of the board is aligned with the post. Hold the board in place with a single galvanized screw.

Level the board and secure it with a second galvanized screw. Measure the height of your sign, and attach the second board below the first at a distance that corresponds to your sign's height. Check the second board for levelness before attaching.

Attach cardboard or plastic signs to your stand with a staple gun. To attach heavier signage, insert screw eyes into the back of the sign, and tie the screw eyes to the sign boards with wire.
References
Writer Bio
Fred Samsa has been writing articles related to the arts, entertainment and home improvement since 2003. His work has appeared in numerous museum publications, including program content for the Philadelphia Museum of Art, and he was awarded a Presidential Fellowship in 2005. He holds a Master of Arts in art from Temple University and a Bachelor of Arts in philosophy from Brown University.
Photo Credits
Roadside Market Farm Stand Sign image by Jim Mills from Fotolia.com
More Articles