How to Find the Model Number for a Maytag Oversize Capacity Plus & Quiet Plus
Every Maytag appliance, including Oversize Capacity Plus and Quiet Plus appliances such as washers and dryers, is manufactured with a product label that displays details about the appliance such as its model and serial numbers. The model number is typically located on the top left corner of the label.
Although the location of the product labels varies by appliance type and model, finding the model number for your Oversize Capacity Plus and Quiet Plus appliance shouldn't take long. Maytag only attaches the product label to certain areas of an appliance.
Washers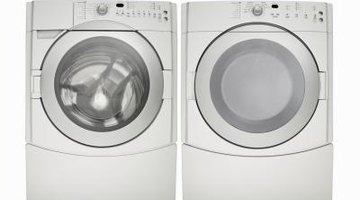 Step 1
Open the lid on your Oversize Capacity Plus or Quiet Plus washer and look for the product label on the inside bottom right corner of the lid.
Step 2
Check for the label behind the control panel on the top back of your washer.
Step 3
Look on the back main portion of your washer, also known as the base frame, on the left.
Dryers
Step 1
Open your dryer's door and look for the label on the inside of the door.
Step 2
Check the inside back of the dryer.
Step 3
Look on the back of the dryer on the upper left side.
References
Writer Bio
Based in Southern Pennsylvania, Irene A. Blake has been writing on a wide range of topics for over a decade. Her work has appeared in projects by The National Network for Artist Placement, the-phone-book Limited and GateHouse Media. She holds a Bachelor of Arts in English from Shippensburg University.
Photo Credits
Ryan McVay/Photodisc/Getty Images
More Articles