How to Set the Temperature on an Atwood Water Heater
The Atwood Company manufactures a variety of appliances for recreational vehicles and marine use, including cooking appliances, gas alarms, heating systems and water heaters. Atwood water heaters are fuel-efficient and lightweight and can be used in a variety of mobile and marine environments. Operating an Atwood water heater is relatively simple, including such steps as setting the temperature on the water heater.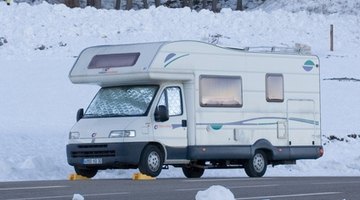 Open the hot water faucet at the sink closest to the water heater and run for several minutes if the water heater has not been used for at least two weeks; this allows any hydrogen gas present in the water line to be expelled. If hydrogen gas is present, it will sound like air moving through the pipe.

Turn the power switch on the water heater to "on." The water heater will attempt to light the ignition three times. If ignition fails, the unit will lock out. Turn the power off for 30 seconds and then turn back on.

Locate the control box on the front of the unit. Open the front access door.

Turn the thermostat control dial clockwise to increase the water temperature. Turn it counterclockwise to lower the water temperature.

Set the temperature control dial at 120 degrees Fahrenheit for the most economical setting. A water setting between 120 and 140 degrees Fahrenheit is recommended for most appliances that utilize hot water.
References
Writer Bio
Meredith Jameson writes early childhood parenting and family health articles for various online publications. She holds a Bachelor of Arts in history from San Francisco State University.
Photo Credits
camping-car 021 image by Jacques Ribieff from Fotolia.com
More Articles