How to Use a Sump Pump as a Pond Pump
A sump pump is designed to remove water from low-lying areas, such as basements or the interior of a boat. Normally they are used intermittently, while standard pond pumps are used continuously. However, they are an inexpensive alternative to a pond pump. To use a sump pump as a pond pump, you will need to put a timer on it to adjust it for continuous use.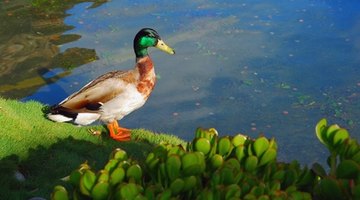 Place a small object, such as a cinder block, on the bottom of the pond. This is where the sump pump will sit. The pump should draw water from the pond bottom, and therefore needs to be placed on the bottom. But the dirt and debris of the pond are also on the bottom, so the pump needs to sit on a cinder block or some other elevation from the mud.

Attach an outdoor-rated programmer timer (available at your local hardware store) to the sump pump. Plug the timer into your electrical outlet and then plug the pump into the timer.

Set the timer so the pump will run for no more than 30 minutes at a time, and will have at least a 15-minute break between operation cycles. This is necessary because sump pumps are not designed for round-the-clock use.

Place the sump pump on the cinder block at the bottom of the pond.
References
"All About Building Waterfalls, Ponds and Streams"; Ortho Book Editorial Staff; 2006
Tips
You must have an electrical outlet outdoors, close to your pond. This is true whether you use a sump pump or standard pond pump.
Follow manufacturer's guidelines in how to set the timer, as this will vary based on the timer's make and model.
Warnings
Any time you deal with electricity and water, you risk electrocution. To minimize this risk, ensure no cords are frayed. Ensure all electrical outlets and electrical equipment are properly grounded. Only connect to outlets that have GFCI, or ground fault circuit interruption, protection. Do not try to use the pump if you are not comfortable or you are not experienced with electrical work. Do not allow children or teenagers to attempt this.
Writer Bio
Kennedi Rose is an Atlanta-based journalist who began her career in 2005 as a newspaper reporter covering the education beat. She has written for a wide variety of commercial, trade and online magazines covering food, drink and the retail sector. She holds a Bachelor of Arts in sociology.
Photo Credits
More Articles