How to Troubleshoot Refrigeration Bubbles in Sight Glass
Many types of devices --- such as air-conditioning units in cars and homes --- require refrigerant. These devices often have a sight glass, which is essentially a small, reinforced window. A sight glass can be used to visually determine problems in a refrigeration device, notably the level of refrigerant. Seeing bubbles in a sight glass is one of the indications that there is a problem with the refrigerant level that needs to be addressed.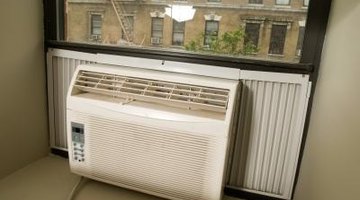 Let your unit warm up. Units that have just started working or are under a low load may show bubbles, and this is normal. In fact, seeing bubbles upon start-up may indicate that the refrigeration fluid level is above the level of the sight glass, which is generally good.

Observe the fluid through the sight glass once the unit is warmed up. If you still see bubbles, this is an indication of a low refrigerant charge or low fluid levels. Note that some types of units must be read under certain conditions to get an accurate assessment; check your owner's manual or call the manufacturer to see if your unit has this requirement.

Add refrigerant if necessary.
References
Warnings
If a unit has another way to check refrigeration fluid levels, use it. Having too much fluid is harmful and seeing bubbles in a sight glass is not a sure indicator that there is a problem.
Photo Credits
Jupiterimages/Photos.com/Getty Images
More Articles