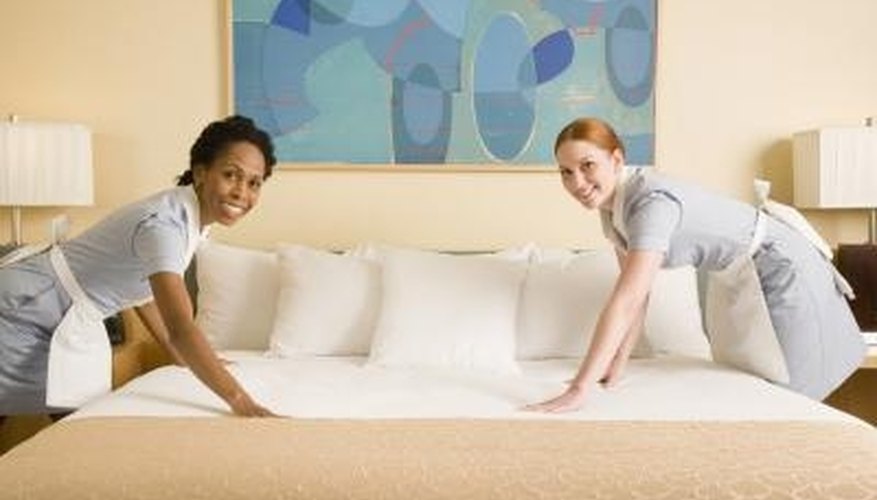 You may sleep apart from your partner, buy new mattresses, wear perfume, sleep masks, nasal strips, keep your room at a set temperature or wear comfy pajamas to promote an uninterrupted sleep environment. An organized room and clean fresh sheets on a well made bed may help, too. Make your bed a sleep refuge from the mattress pad to the bedspread.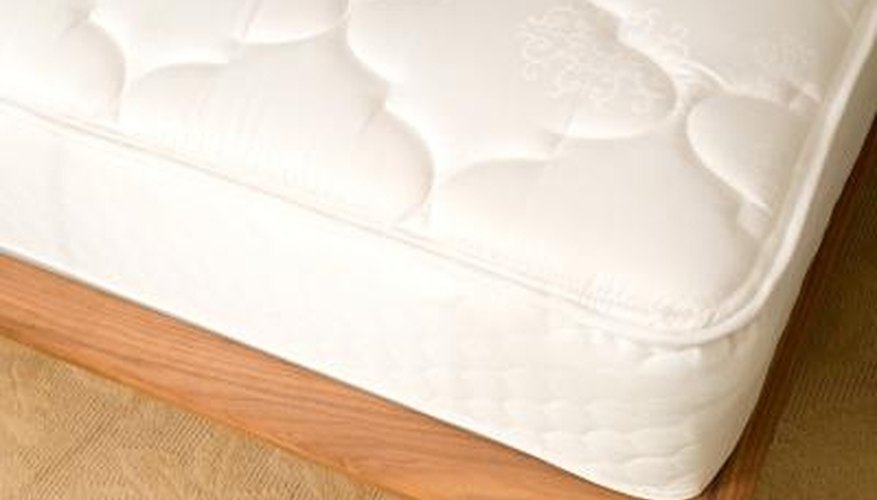 Place a mattress pad over the mattress. Smooth and pull the elasticized fitted skirt over the sides.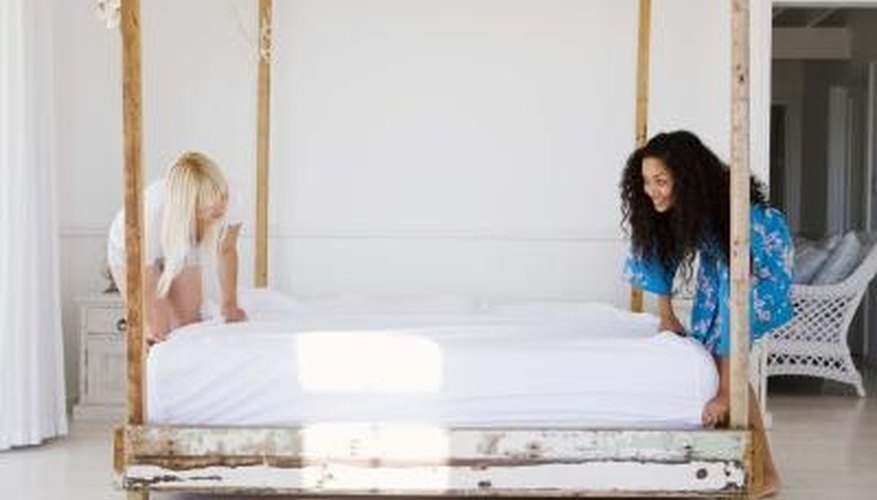 Position a fitted sheet over the bed. Tuck under one elasticized corner. Smooth from the center toward the opposite angle and pull the fitted sheet over the corner. Tug a third corner over the mattress. Lift the fourth corner, easing the elastic skirt over it you lower the mattress.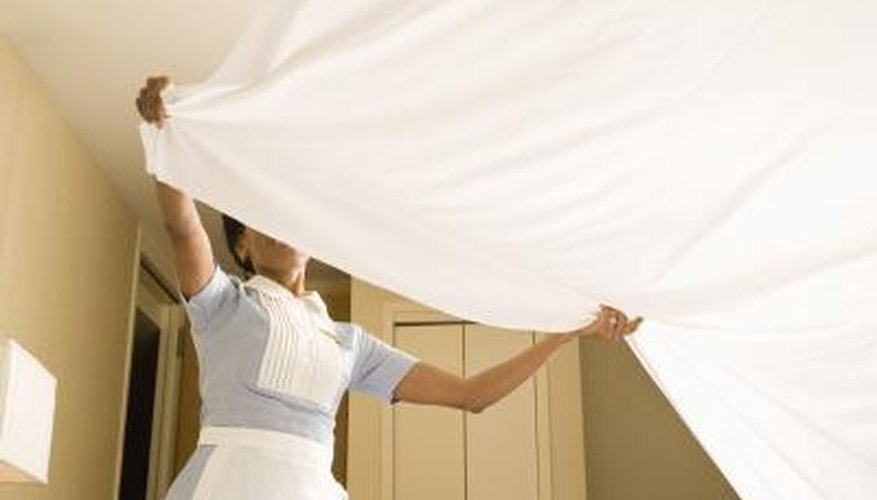 Stand at the side of the bed. Grip close to the wide hem of the sheet and grip with your other hand close to the center. Raise your arms quickly and motion toward the opposite side of the bed. Allow the air to catch under the flat sheet and float it over the bed; allow it to gently settle over the mattress. Straighten the top of the sheet even with the top edge of the mattress and allow the excess to fall toward the floor at the foot of the bed. Spread the sheet evenly on all sides and smooth. Stand at the foot of the bed and tuck the sheet under the mattress. Move to one long side near the foot of the bed. Pick up the edge of the sheet that's even with the corner and lift it toward you until it's even with the top of the bed. Tuck under the part of the sheet that hangs down. Release the part of the sheet that's in your hand and tuck it under. Repeat on the opposite side.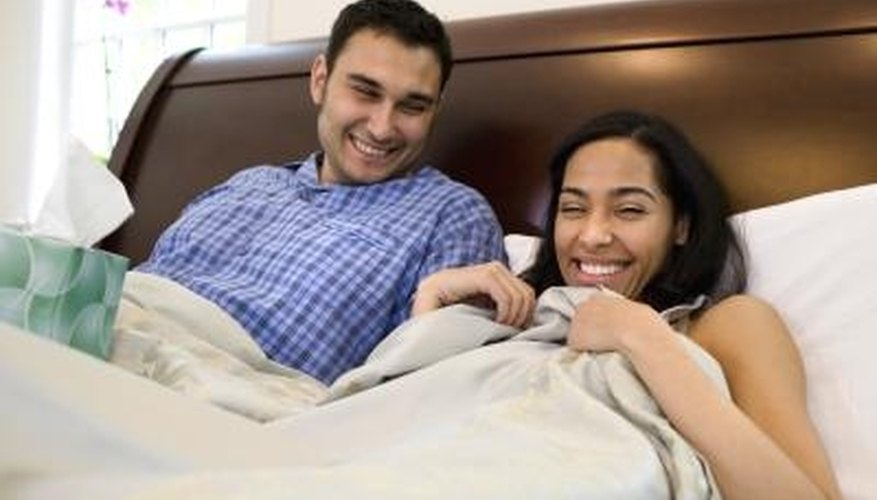 Spread a blanket in the same manner as you did the flat sheet. Tuck the short end under. Pull the corner up on the long side of the bed and tuck under the blanket that is hanging down. Let the long side of the blanket hang parallel to the floor.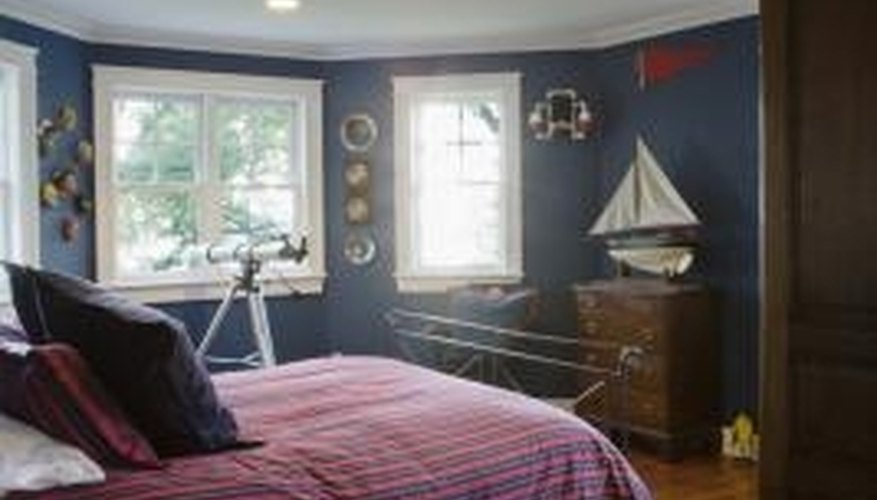 Smooth a decorative bedspread or comforter over the made bed. Allow all the sides to hang evenly and parallel to the floor. Fold excess covering back, then smooth and pull tight.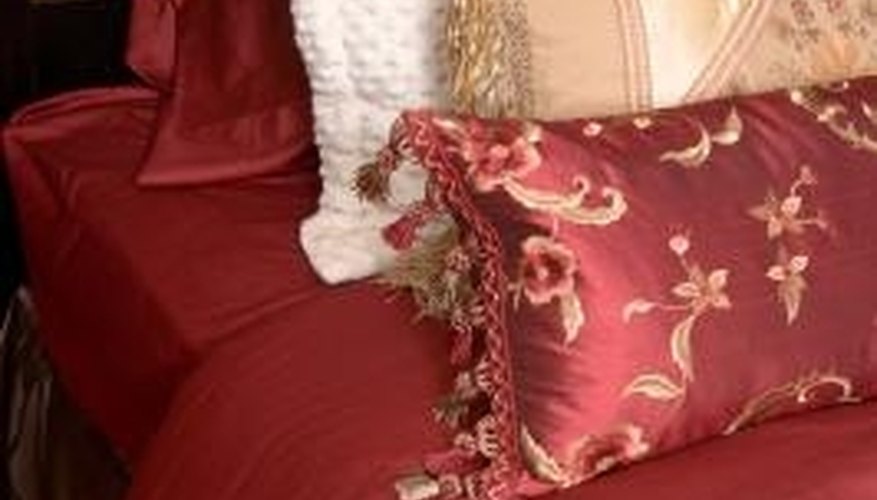 Lay pillows in place, overlapping the bedspread. Cover the pillows with the bedspread, smooth, fluff and tuck the pillows.
Things You Will Need

Mattress pad
Fitted sheet
Flat sheet
Blanket
Bedspread
Pillow
Tips
Buy a stain-repellent mattress pad.

Use a cotton or polyester-fill mattress pad for added comfort.

Make all your tucks flat.

Tuck the long side of the blanket if it hides your bed skirt.

Fold your sheet back over the bedspread and pull the sides taut for a classic look.