Pick Your Paint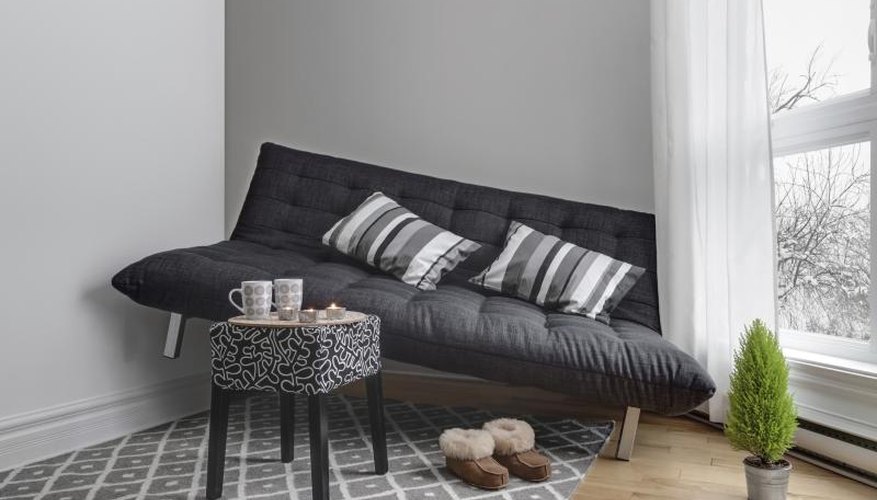 It's a typical family gathering spot for casual media viewing and games playing or a mostly off-limits adult retreat with a bar and informal furniture. When the den is small -- and rooms reclaimed for use as dens are often small -- the challenge is to invent a space in which everyone can live large without tripping over each other.
A family den needs lots of light, especially when it's really compact. Paint the walls eggshell so fingerprints will wipe right off without damaging the finish. Bisque is a neutral that goes with favorite furniture or collected hand-me-downs in almost any color. Creamy yellow will bring some sunshine into a room that doesn't get much. Ice-blue will soothe the savage little beasts who roam your home. Peach will cast a flattering light on the most exhausted visage. Mint is springlike and refreshing. When the den is dad's or mom's and meant to be intensely therapeutic, turn it into a man cave or a jewel box with intense color. Chocolate or charcoal walls with a medium-gray or camel tweed rug will wrap around heavy wood furniture and a favorite leather chair. Red enamel with touches of gilt is practically decadent with embroidered silk brocade upholstery on a love seat and a scrap of predominantly red oriental carpet.
Small But Stylish
Curate the furniture in the den to pull together maximum style in minimal square footage. Mix it up, with a petite but impressive traditional love seat in tufted velvet or narrow-wale corduroy, a couple of Eames Mid-Century Modern wooden "spool" stools used for seating or tables, an Anglepoise lamp on a skinny side table, a Bertoia wire chair on both sides of a Parsons-style wood desk that doubles as a snack table. Good reproductions of classic furniture designs are widely available. Divide the blueprint into functional areas: a reading corner; a computer/games station; a conversation pit; a crafts table and storage shelves. Beanbag chairs that pile up behind a sofa and upholstered cube stools that hide storage are movable, flexible solutions in a modest multipurpose space.
High Concept
By day, the attic den houses the home office, a workday power center. At night and on the weekends, the family binge-watches a past season of a favorite show, plays high-stakes foosball, devours pizza while gobbling up the Boardwalk and Park Place. Use the sharply angled space in a corner under the eaves for an "L"-shaped desk with storage below and a swivel chair on wheels. Move the chair into the general seating area when the office is closed and pull a canvas curtain across the corner. Make matching undyed canvas roman shades for the attic windows -- sturdy and light in a white or an off-white attic. Build shelves and cupboards to take advantage of the rest of the low angles at the walls and group a conversation-seating area with a large, low table in the middle of the space. Mount a flat screen on one wall and add a computer station, similar to the home office, at the opposite end of the room.
Ditch the Door
A cramped room can use all the space you can squeeze out of it -- examine the door to see if you really need it. Space-saving doors leave more room on walls for shelves and furniture, disappear altogether when you don't need them, pull across or back out of the way without pushing into or out of the room, block some views or noise but not air circulation or access. Replace a swinging door with pocket doors that slide into the wall when not in use. Take the door off and hang a curtain rod and sturdy fabric curtain on rings to pull over the opening for privacy. Suspend a beaded curtain over the door with hooks on the wall on either side to act as tiebacks. Build a "barn door" on a track that slides completely or partly over the opening, and paint it like a chalkboard for messages.