When to Use Caramel Color on a Wall
The sinfully over-the-top richness of melted caramel looks equally luscious on your walls. Somewhere between muted orange and honey gold, caramel is warm, creamy and earthy -- a shade to drool over -- and liberally apply to any room in the house. Brighten up the mudroom as you camouflage smudges, pique appetites in a yummy dessert-colored dining room or mix a little cream in your caramel and sweeten up a long, boring hall.
Bathe in Beauty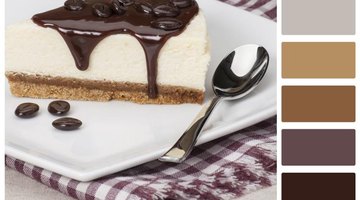 Bathe in a sea of liquid caramel as lavishly luxuriant as creme caramel but a lot less sticky. In a bathroom with worn Mediterranean tile floors, texture upper walls in light caramel -- colorwashing, rag rolling or sponging creates a faux-textured finish. Tile lower walls in reclaimed, distressed, hand-painted tile in patterns of cream, caramel, honey and navy. Paint the outside of a claw-foot bathtub, including the feet, a deeper shade of caramel. A gilded mirror over the tub and antique gold faucets create a timeless, old-world opulence.
Concentrated Color
A tawny caramel accent wall in the living room is an elegant backdrop for a modern painting, a black-and-white photograph collection or a sculptural, wall-mounted piece of driftwood. Contemporary furniture is sophisticated in this room without being stuffy. An ivory leather Italian-designed sofa or sectional, glass-and-wood coffee table, Breuer-inspired tobacco leather chairs, and a swirl of an ivory acrylic Danish modern pendant lamp emphasize the limited palette. Linen paint on the remaining walls and ceiling, unbleached linen curtains and gargantuan potted green plants ensure the carefully curated room is balanced and relaxing.
Honored Guests
Pale caramel walls, both deep and light caramel bedding and caramel velvet drapes over white sheers are as welcome as sunshine in the guest room. Temper the warm palette with greens -- an olive throw on the bed, a moss-and-cream checked slipper chair, Oriental area rugs in burnt orange, caramel, honey, jade, cream and moss on either side of the bed. An antique dresser in gleaming orange-toned wood and caramel towels in the all-white en suite bath will make it hard for house guests to leave.
Caramel Custard
The kitchen has white cabinets, white vinyl floor tile that resembles limestone and white appliances. You're planning to replace old appliances with energy-saver brushed aluminum, but the floors and cabinets have to stay. Modernize the room and integrate the industrial-metal appliances with buttery deep-caramel matte paint on the walls, edged in glossy white trim. One or two coats of paint and you've banished the bland, featureless kitchen and opened possibilities for hanging racks of copper pans and a kitchen island custom-crafted from distressed wood, copper and orange granite. Caramel walls work with decorative woven baskets, butcher block and clay dishes and platters and would happily coexist with an earthy backsplash of hand-painted Talavera Mexican tiles.
References
Resources
Writer Bio
Benna Crawford has been a journalist and New York-based writer since 1997. Her work has appeared in USA Today, the San Francisco Chronicle, The New York Times, and in professional journals and trade publications. Crawford has a degree in theater, is a certified Prana Yoga instructor, and writes about fitness, performing and decorative arts, culture, sports, business and education .
Photo Credits
EasterBunnyUK/iStock/Getty Images
More Articles