Paint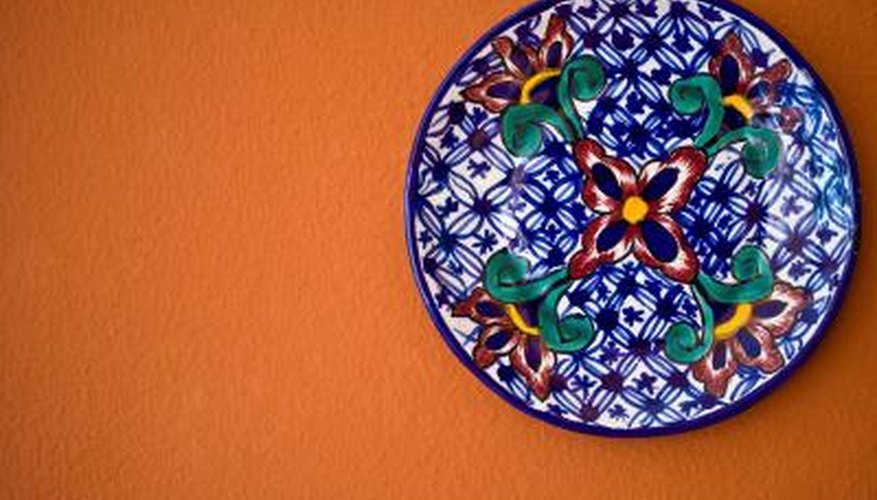 While some dishes are decorative and intriguing as they are, others need a bit of help to make them more interesting. If you find yourself with a dish that you would like to make more eye-catching, there are a number of ways to decorate or showcase the dish. For example, you could decorate the dish with paint, apply decoupage to the dish or display the dish in a creative way.
Painting glass or ceramic dishes is an enjoyable hobby that can bring new life to an otherwise uninteresting piece. Painting your dish allows you to customize the piece for your own kitchen. For example, you can paint the dish in colors that match any wall art you may have, or with pictures that match the theme of your room. Specialty paint that is designed for use on dishware is needed if you intend on eating from the dish after it is painted. Once dried and baked in the oven, dishes painted with this specialty paint are safe to eat from, cook in and wash. If you do not intend on using your dish for culinary purposes, it can be decorated with ordinary craft paint.
Decoupage
Decoupage involves the attachment of one or several paper images to an item, often creating a collage-like effect. Any thin piece of paper, such as wrapping paper, clippings from a magazine or a drawing can be applied through decoupage to a plate, creating a unique piece for your home. Clear, glass dishes work best for the decoupage technique, since they allow you to apply the decoupage to the back of the dish, leaving the smooth, glass surface on top. Other dishes can also be transformed with this technique, but the decoupage must be applied to the top of the dish. The images you decoupage to your dish can be chosen to coordinate with other items in your home.
Creative Displays
Displaying your dish in a creative way can make an ordinary piece more interesting. Because dishes are traditionally seen in kitchens and dining rooms, choosing another location to display a dish will make it seem more important. To add drama and significance to the dish, try displaying it in an entryway or hallway. Using the dish as a base for a candle or a holder for potpourri will draw attention to the dish, as will displaying it with a plate holder on a shelf or bookcase. Mount your dish onto the wall with a plate hanger, and place it in the center of a display of many wall-mounted dishes. When displaying the dish in the form of a collection of many pieces on the wall, surround your dish with several dishes of contrasting colors or sizes. This will draw attention to the dish you want to bring more attention.