DIY Silver Cleaner Dip
Over time, silver eating utensils, tea sets and jewelry all turn dark with tarnish and need to be cleaned. While some people use silver polish, others prefer to soak or dip their silver so they do not scratch or damage it in the process. Fortunately, making a homemade cleaning solution for silver is possible with just a few common household items.
Storage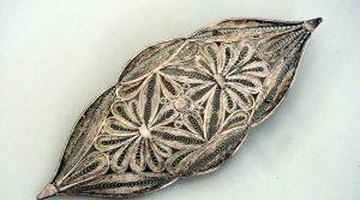 To prevent tarnish from occurring in the first place, store silver pieces in an area that does not get dusty and is not susceptible to humidity. Wrap your silver in a felt cloth designed for silver or place it in box lined with felt. Another method is to place silica gel and a small dish of active charcoal in the drawer where the silver is stored.
Dipping
Before you make your dip, clean your silver with warm, soapy water. Rinse well. Then line a pan with aluminum foil. Place the silver directly on the foil. Add water and baking soda, one cup of baking soda per gallon of water. Then heat it on the stove and, once it boils, remove the pan. An alternative is to boil water in a teapot and pour it into the pan and then add the baking soda. Gently mix it, but be careful not to scratch the silver in the process.
During the cleaning process, you will notice the foil turn dark as the tarnish disappears. The sulfur is being removed from the silver and transferred to the aluminum foil. Carefully remove the silver with tongs and rinse well. Again, take care not to scratch the silver. Be sure to remove any baking soda residue. Dry with a soft cloth.
References
Writer Bio
Melissa Lewis is a former elementary classroom teacher and media specialist. She has also written for various online publications. Lewis holds a Bachelor of Arts in psychology from the University of Maryland Baltimore County.
More Articles