What Color Should I Paint My Ceilings?
In many interior decorating schemes, a room's ceiling may be something of an afterthought. Yet as the largest paintable surface within the home's interior space, the ceiling can serve as the unifying decorative element in the melange of carpet, furniture and wall paint colors.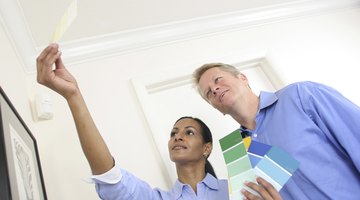 Before settling on an ordinary white ceiling, explore paint combinations that encompass the entire room. Let the ceiling define the space.
Classic White
One reason that white has become the most common choice for ceilings is that it's a safe option that's compatible with any color scheme. White ceilings provide gentle contrast to soft pastel and off-white walls, and they serve as a crisp highlight for bolder wall colors. In small rooms such as bathrooms, home offices and guest bedrooms, a white ceiling adds visual depth to an otherwise confined space. In the living room, a flat white ceiling gently reflects light from table lamps to help provide soft, even illumination over a wide area.
Basic Black
Black ceilings make indoor spaces more intimate. A dark ceiling complements walls painted in deeper shades of either the warm or cool side of the color spectrum -- including royal blue, forest green and ruby red. Black adds depth to rooms primarily illuminated by recessed lighting or track lighting, including finished basement spaces, entertainment rooms and man caves. Because black absorbs ambient light, it's a practical choice for the ceilings of home theatre rooms.
Another Slice of the Chip
The small paint sample cards supplied by most paint manufacturers -- also known as chip cards -- often feature four to six variations of the same hue, presented in shades from light to dark. Once you've selected your primary wall color, a lighter or darker shade of the hue from the same chip card serves as a compatible color choice for your ceiling. You can create more visual textures by using a satin or eggshell sheen on the walls and a flat sheen on the ceiling.
Suggestions of Wood
The right color of brown paint on the ceiling establishes visual continuity in a room with wood paneling or with an uncarpeted hardwood floor. A ceiling painted in light golden brown serves as the finishing touch to a room decorated in a lodge-look theme, especially if the room employs wide-plank oak paneling or flooring. A caramel-colored ceiling paint blends well with a room decorated in maple. If the room features stained wood wainscoting, you can match that color -- or a lighter shade of it -- in your ceiling paint.
The Sky Above
Apply a light sky-blue base color to the ceiling of your sun room; then create the illusion of an open roof with a faux finish of fluffy white clouds. A do-it-yourselfer with artistic talents can render a realistic trompe l'oeil sky mural overhead, but even an average DIYer should have the skills to produce a cloud effect using a sponging technique with white paint. You can produce a peaceful night sky on your ceiling by starting with a navy-blue base coat. Add stars to your sky by applying glow-in-the-dark paint with one or more star stencil kits.
References
Resources
Writer Bio
Mike Matthews is editor of Green Building Product News, a national publication that covers sustainable innovations in building and remodeling, and he has spoken at national conferences on green building. He has also served as founding editor of "Paint Dealer" magazine.
Photo Credits
Purestock/Purestock/Getty Images
Purestock/Purestock/Getty Images
More Articles