Definition of a Triadic Color Scheme
A triadic color scheme incorporates three hues that are evenly spaced around the color wheel. This means you're drawing colors from both the cool and warm palettes and working with dynamic contrasts.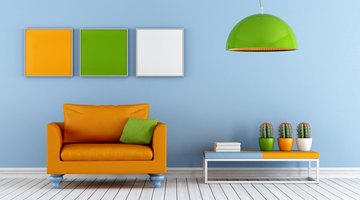 Triadic colors naturally harmonize but have to be balanced to avoid vivid shades competing with one another, which would create visual chaos and a stressful ambiance in a room or in adjacent spaces.
Weight Color Choices
The American Institute of Interior Design recommends the 60-30-10 rule: One color dominates; one color is secondary; and the third color is an accent. If you go full-out with two or more colors, you create visual chaos. Apricot, grape and emerald are triads. Paint walls a rich apricot, add an overdyed grape-purple area rug to define a conversation area or under a dining table, and place a couple of gleaming emerald hand-blown glass dishes on a table where they will catch the light.
Tame the Tone
Control intensity, and your triadic decor has a shot at success. Triadic color is one of the trickiest approaches to get right, but it can yield gorgeous results when you tweak color saturation to achieve harmony. Saturation, or intensity, refers to the purity of a color. Pure red is vivid, intense, assertive and extremely strong. Barn red is slightly more muted; brick is much softer; rose is light but lively; pink is palest of all. By playing with intensity, you can juxtapose three colors that would otherwise be in complete conflict. Iced-lemon walls in a bedroom with a cerulean carpet and rose-and-white patterned drapes and bedspread create serene and subdued, but arresting, decor.
Everything Counts
Colors in a room include the shades of wood furnishings and trim, the paintings on the wall, your prized potted orchids and the glass pendants in the chandelier. Go for the energy that comes from combining triadic colors by taking advantage of unsuspected sources of hues like golds or aquamarines. You might not think "red, yellow and blue" when you decorate the parlor -- but you get the triadic animation with rose-pink matte walls, a golden sisal carpet over honey-brown plank floors, gold-and-cream chevron brocade upholstery on an antique chair, and sky-blue-and-white patterned brocade on the couch. Sapphire pendants in the chandelier and a milk-glass vase stuffed with blue hydrangeas add to the balanced primary-color decor.
Secondary, Not Second-Rate
An assertive triadic scheme in a kitchen makes use of secondary colors for vivid decor with an accent on cheery hospitality. The terra-cotta tile floor is a big block of orange in the room. Resist the temptation to surround it with white. Instead, paint walls pale mint, cover cabinets in dusky lavender enamel, add light marble counters and stainless appliances. Or paint a deep violet accent wall behind the stove, leave the cabinets natural wood, and put a green glass tile backsplash behind the stove and sink, and above all counters. Turn that color scheme on its head with lemon-yellow or sunflower floor tiles, palest lilac walls, and chartreuse or apple-green stained cabinets. An aubergine blender on the counter or a pair of violet oven mitts sneak some extra purple into the mix.
References
Resources
Writer Bio
Benna Crawford has been a journalist and New York-based writer since 1997. Her work has appeared in USA Today, the San Francisco Chronicle, The New York Times, and in professional journals and trade publications. Crawford has a degree in theater, is a certified Prana Yoga instructor, and writes about fitness, performing and decorative arts, culture, sports, business and education .
Photo Credits
de santis paolo/iStock/Getty Images
de santis paolo/iStock/Getty Images
More Articles