Lime Green Bedroom Decorating Ideas
Lime green is a bright, vibrant color that is typically associated with summertime and fun. Your entire room can be lime green if you want that much zest, or sprinkle small amounts throughout the room for a large impact. The bright green shade can accentuate a feminine room or work with a retro or contemporary theme.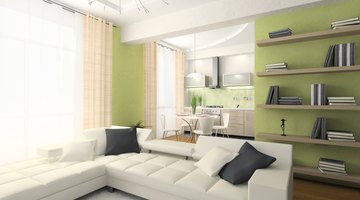 Lime green is appropriate for nurseries, kids' rooms, teen rooms or even adult bedrooms as long as the inhabitant enjoys the color.
Complementary Colors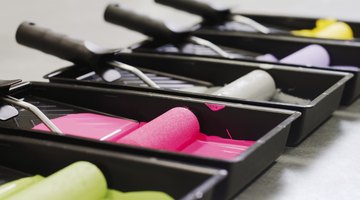 Lime green can serve as the main color of your room while surrounded by complementary colors or as an accent color that adds impact and interest to other colors. Common color combinations include lime green and hot pink for a feisty teen, or lime green and sky blue for a relaxing tropical vibe. Lime green and purple can work in a baby's nursery, child's room, teen's room or even a guest room. Spark interest in an otherwise neutral room of chocolate brown and cream with lime green accessories. Bright yellow complements lime green, although this combination may be too bright. Black-and-white color schemes provide the perfect backdrop to make lime green "pop"--even against patterned backgrounds such as stripes, a zebra print or polka dots.
The Walls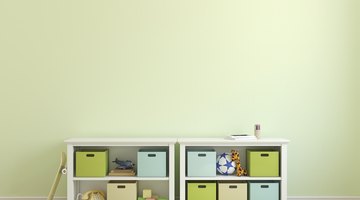 Lime green walls may be too much for your bedroom if you use the room mainly to relax and sleep. Tone it down by painting only one wall in lime green as an accent wall, or by incorporating a pattern. For example, balance the green with turquoise or sky blue stripes or polka dots. Paint green and white polka dots on a chocolate brown wall. Incorporate bold patterns with removable adhesive wall decals if you change your mind often, so you won't have to repaint the room.
Furniture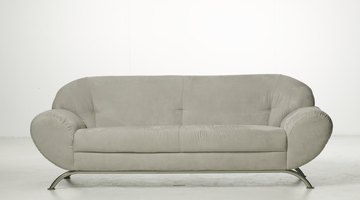 Light furniture in white or natural wood tones can help create a coastal feel to a lime green and blue room or tone down a lime green and hot pink room. Chocolate brown furniture can work for a modern room with a neutral palette and just a hint of lime green, or ground a yellow and lime green room. Black furniture works with many color schemes--if you change your mind frequently--and provides the perfect balance for a black, white and lime green room. Paint one piece of furniture, such as a chest or shelf, lime green if you want it to stand out against white or dark brown walls.
Accessories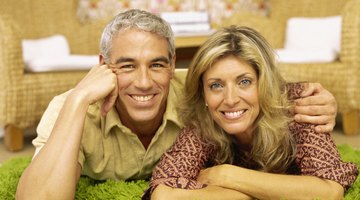 Accessories are the key to your bedroom decor, especially if the rest of the room is neutral. A lime green rug can add a huge impact to the room if it's placed in the middle of the floor. Use a pattern, such as a zebra print, polka dots, stripes or geometric patterns, if a solid color is too much or if you want the rug to serve as the focal point of the room. Curtains, bedding, throw pillows or a chair are other ways to flood your room in lime green, or simply add a hint of color. Smaller accessories can go a long way in adding zesty lime green to your bedroom. For example, arrange lime green candles on a floating shelf or a furry green lampshade on your nightstand; or hang lime green artwork or picture frames on your bare walls.
References
Writer Bio
Janece Bass is a freelance writer specializing in weddings, family, health, parenting, relationships, dating, decorating, travel, music and sports. She has been writing for more than 15 years and has numerous published pieces on various websites and blogs. Bass has also ghostwritten various fiction-based novels.
Photo Credits
koksharov dmitry/iStock/Getty Images
koksharov dmitry/iStock/Getty Images
Stockbyte/Stockbyte/Getty Images
poligonchik/iStock/Getty Images
Photodisc/Photodisc/Getty Images
Stockbyte/Stockbyte/Getty Images
More Articles