How to Fix Scuffs on a Leather Shoe
Leather shoes are more than just something you put on your feet; they're a timeless type of footwear that nearly everyone owns. You can dress them up or dress them down; such shoes fit seamlessly with a variety of outfits making them look good at work or at play. Scuff marks, however, can mar the seamlessly chic look of these shoes, making your entire outfit look less stylish. Luckily, you can repair these issues, even if you're not a professional shoe repairer.
Cleaning Scuff Marks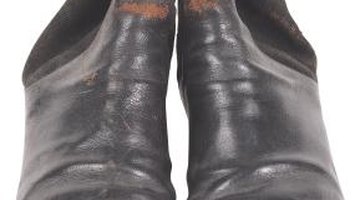 Step 1
Moisten a soft cloth with nail polish remover or lighter fluid. Scrub the scuff mark with the moistened cloth to remove or fade the majority of the mark.
Step 2
Rub an art gum eraser on the lingering scuff marks. This effectively removes the last of the scuffs, but it can dull the appearance of your shoes.
Step 3
Dab a dime-sized amount of shoe polish or conditioner onto a soft cloth. Rub it in, bringing the shoes to a shine.
Covering Up Scuff Marks
Step 1
Dip a fine-tipped paintbrush in acrylic paint that matches the shade of your shoe. It's imperative to get as close a match as possible.
Step 2
Dab the paint over the scuff marks, covering them in a thin layer. Allow to dry for 30 minutes.
Step 3
Add another thin layer of paint over the first. Your goal is to reinforce the paint layer you've already applied to not only cover the scuffs, but create a shield so the paint won't chip off.
References
"The Complete Idiot's Guide to Household Solutions"; Melodie Moore; 1998
"Woman's Day Easy House-Hold Tips: 1,000 Ideas for Caring for and Maintaining"; Editors of Woman's Day; 2008
Writer Bio
Lane Cummings is originally from New York City. She attended the High School of Performing Arts in dance before receiving her Bachelor of Arts in literature and her Master of Arts in Russian literature at the University of Chicago. She has lived in St. Petersburg, Russia, where she lectured and studied Russian. She began writing professionally in 2004 for the "St. Petersburg Times."
Photo Credits
Hemera Technologies/PhotoObjects.net/Getty Images
More Articles