How to Disable Heated Dry on a KitchenAid Dishwasher
Your KitchenAid dishwasher comes with a "Heated Dry" option. But this option is not always a good choice, depending on the type of load you have in your dishwasher. For instance, if you have plasticware that cannot withstand high temperatures, you should not use the Heat Drying option. Heat drying options on dishwashers use quite a bit of extra energy. If you're not interested in using this option, you can disable it.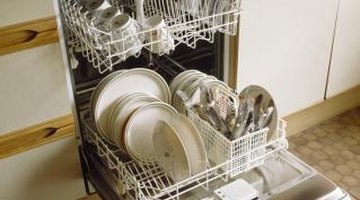 Close your dishwasher and ensure that it is locked shut.

Choose either "Heavy Duty," "Normal Wash," or "Light Wash" settings on the face of your KitchenAid dishwasher.

Select the "Heated Dry" button. If the "Heated Dry" light is illuminated, select the button again. The light will turn off.

Press the "Heated Dry" button for 4 seconds to lock your settings. The "Heated Dry Lock" LED light will illuminate.
References
Writer Bio
Necie Reed began writing professionally in 2009. Her work appears online, focusing on topics about technology, software, video games and relationships. She also blogs and is the owner of a forum website. Reed earned her Bachelor of Science in technology from Devry University and her Master of Business Administration in project management from Keller Graduate School.
Photo Credits
Design Pics/Valueline/Getty Images
More Articles