How to Remove Dye Stains in a Tub
If you hang dry clothes over a tub or use colored shampoos and soaps in the shower, you could end up with a stain on your tub. Dye can leave a permanent stain on a tub, if you don't use the right stain removal method. A few household ingredients can be combined to return your bathtub to its clean, white state.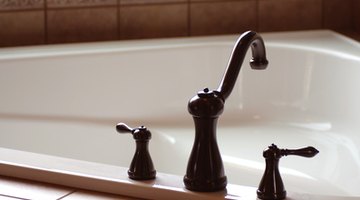 Step 1
Pour 1 tbsp. cream of tartar into a bowl.
Step 2
Add 1 tbsp. baking soda into the bowl.
Step 3
Pour 1/2 tsp. lemon juice into the bowl, and stir all of the ingredients together. The mixture should be a thick paste. Add more lemon juice if needed.
Step 4
Dip a cloth into the mixture, and then rub it in a circular motion over the dye stain.
Step 5
Let the homemade paste sit on the stain for about 15 minutes, and then rinse it off with water.
Step 6
Apply the paste again if the stain is still there, and leave it on for 30 minutes the second time. Rinse the area thoroughly with water.
References
Writer Bio
Megan Richardson began her career as a freelance writer and editor in 2009. She has experience in public relations and event planning, and she worked as a writer's assistant to a published author for more than a year. Her work has also appeared in "The Daily Sentinel." Richardson holds a Bachelor of Arts in communication and journalism from Stephen F. Austin State University
Photo Credits
More Articles