How to Hide Exercise Equipment in a Studio Apartment
When space is at a premium and there's never enough time for the gym, you need a creative approach to housing exercise equipment. Stuffing it into a closet means it is out of sight and out of mind -- and probably out of action. Shoving it under the bed only works if your entire stock of equipment is free weights. A studio apartment that doubles as a fitness center requires fluid, easy-access storage solutions that keep your small space habitable. One terrific idea is a Murphy gym or its cheaper, recycled cousin. Surround it with cleverly hidden gym gear and a personal trainer on DVD.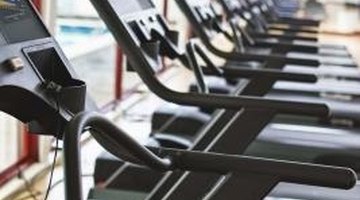 Place a custom Murphy gym unit along a display wall that also holds your TV and shelves for books, art and collections. Calculate adequate clearance between the furniture and the open-out doors that hide the exercise equipment. Use fold-away benches and pulleys and a slide-out step machine. Stack weights up one side of the equipment alcove in wall-mounted racks, with the heaviest on bottom. Hang resistance tubes and other gear on the opposite side.

Make your own inexpensive Murphy gym from an old armoire. Use a jigsaw to cut out the bottom of the unit, leaving a generous frame for stability of the unit. Screw in wire shelves, hooks and baskets for storing equipment on the back wall of the armoire and the insides of the doors. Measure the equipment you purchase to be sure it will fit into the fixed space of the armoire and don't invest in anything that won't unfold or slide out easily.

Position a screen or bookshelf behind your bed to create a hidden "room." An elliptical machine or stationary bike slides right behind the visible barrier to keep bulky gear from dominating the room during a dinner party. Hang beautiful textiles, like antique kimonos, from the screen as a distracting art display. Fill the bookshelves with a library of volumes handy for reading on those treadmill workouts or long bike rides to nowhere.

Hide a fitness ball in plain sight by purchasing a desk chair that uses the ball as an ergonomic seat. You get the subtle exercise benefit of constant adjustment for balance while you work and the ball slips out of the chair for crunches and stretches in the middle of the floor.

Install a chin-up bar on the bathroom door frame. The units now come with mounting hardware that doesn't puncture or damage the frame, so even studio renters can uninstall the gear without a trace when they move. Tuck a rebounder mini-trampoline under the bed and keep some inspirational fitness DVDs next to your TV.
References
Writer Bio
Benna Crawford has been a journalist and New York-based writer since 1997. Her work has appeared in USA Today, the San Francisco Chronicle, The New York Times, and in professional journals and trade publications. Crawford has a degree in theater, is a certified Prana Yoga instructor, and writes about fitness, performing and decorative arts, culture, sports, business and education .
Photo Credits
Jupiterimages/Brand X Pictures/Getty Images
More Articles